From Dasan McCullough's first practice with Indiana football, Cam Jones knew.
The veteran linebacker already knew McCullough from his recruitment and through his father, former IU running backs coach Deland. But until fall camp started, Jones hadn't seen him actually suit up and play football.
And that day, he quickly recognized what the Hoosiers had in this touted freshman.
"He was pretty locked in and he was ready to go. You could tell he had a lot to get off his chest and off his shoulder," Jones said. "Right from the first practice, you could tell he's just an athlete."
McCullough, a four-star recruit in the 247Sports Composite rankings, is already showing why he was rated so highly. He stepped into a big role for IU right away, and quickly started producing. He recorded six tackles against Illinois, including an assisted tackle for loss.
The Hoosiers know he's one of their most athletically gifted players on defense, and they're already finding ways to get him on the field however possible. He played three positions against Illinois — outside linebacker in the base package, and the bull (essentially a linebacker and pass rusher in IU's dime defense), and the husky (IU's version of a hybrid linebacker and safety). He's a versatile weapon on defense, and IU is going to take advantage of that.
Linebackers coach Kasey Teegardin said the staff is already tailoring some of the scheme around making use of McCullough's abilities, while maximizing the talent around him.
"We thought, initially, (we'd) put him at linebacker. But you've got to get your best 11 on the field. He's one of our best 11," outside linebackers coach Kasey Teegardin said. "You've got to manufacture and find ways to get him involved. And that means multiple packages: playing boundary, playing field, blitzing, doing a lot of different things."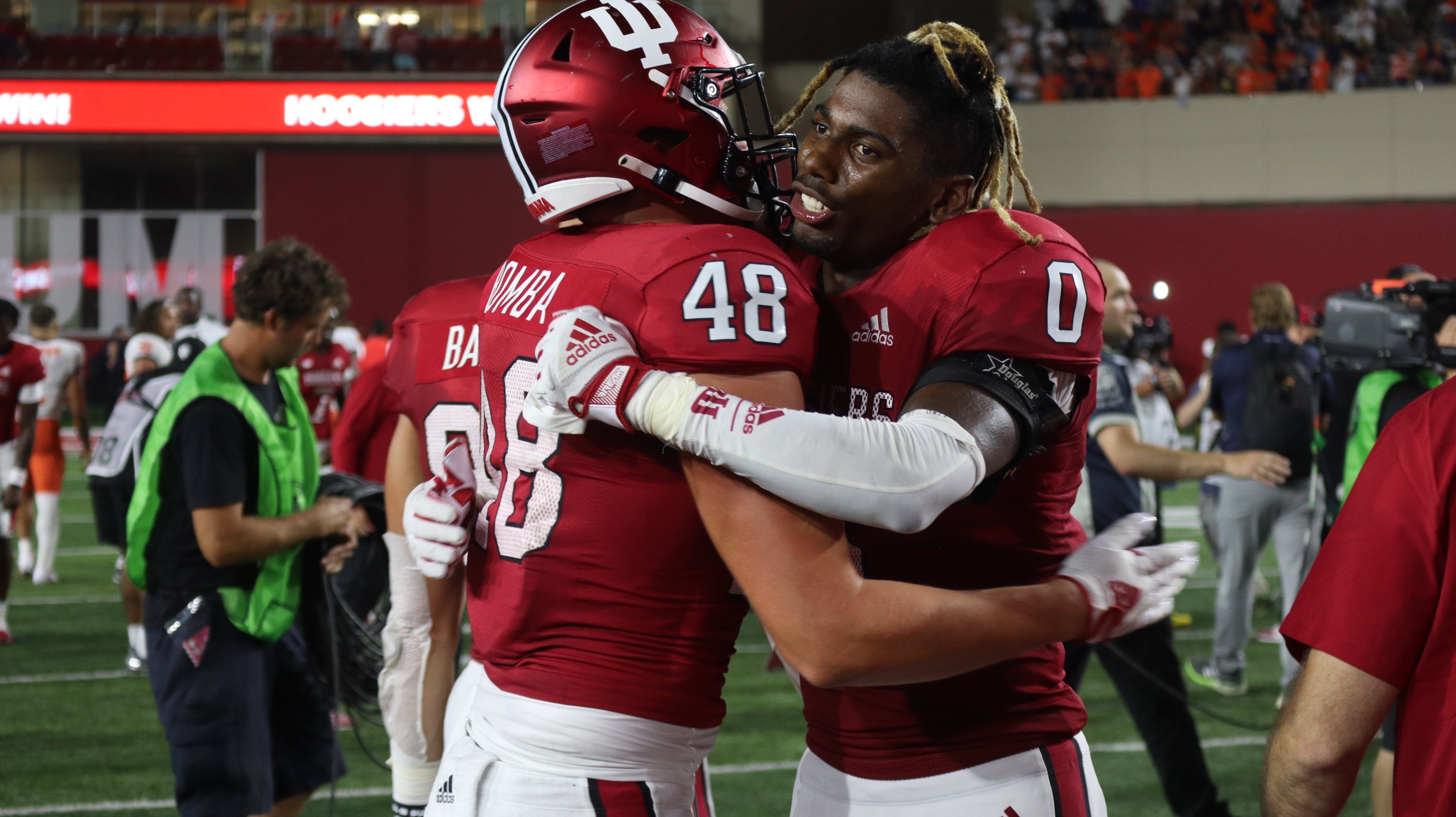 Not every freshman comes in and handles that level of responsibility right away. Many aren't ready for it. But McCullough isn't fazed. He doesn't feel any pressure from his already important role.
"It's just football to me. I'm not really even handling any pressure," McCullough said. "I have support from so many other players and the coaches that when we're just here and out there on the practice field, there's no stress. I'm just getting better every day. That's all it is."
But that doesn't mean it's easy. During a period when many freshmen are still learning how to manage their busy schedules as student-athletes and adjusting to their early days of campus life, McCullough is already firmly in the spotlight. And the multiple roles the coaching staff is playing him in only makes it more difficult.
"He already has a good understanding of football, which helps. But I do think it's difficult because we're asking him to do a lot of different things," Teegardin said. "It's new things for him. He was a safety back in Kansas City (in high school before he came to Bloomington). Now he's down in the box. It is a little bit different to him."
That football IQ comes naturally to McCullough. He's not just a coach's kid — he grew up around college football. Deland was IU's running backs coach from 2011 through 2016, then took the same job at USC in 2017 and with the Kansas City Chiefs in 2018 through 2020. When Deland returned to IU as associate head coach and running backs coach in 2021, Dasan moved to Bloomington High School South for his senior season.
Teegardin said kids like Dasan whose parents coached at the collegiate level have beneficial experience right away that makes a real difference. He said Thomas Allen and Dasan's older brother, Deland II — who played special teams for IU in 2021 — were the same way.
"The IQ that those guys have, probably (from) being around it; they watch (college football) all the time, right? They're traveling to their dad's games, watching," Teegardin said. "Being in person, on the sidelines, around the players interacting as young kids growing up in that environment, you understand how it's supposed to look."
McCullough originally committed to Ohio State in August 2020, but flipped to Indiana in April 2021, just months after his father returned to the Hoosiers. But when Deland moved to Notre Dame, some wondered whether Dasan would stick with IU. His younger brother, Daeh, flipped from IU to Cincinnati and left Bloomington South to play his senior year in South Bend. The coaching staff knew Deland wanted what's best for his kids, and while Teegardin said the transfer portal era creates some doubt for everyone, he trusted his good relationship with the McCulloughs.
For Dasan, it was never in question.
"I knew from the jump, when my dad first came here, I didn't commit to IU for my dad or for my brother. I committed because I love the program and what coach Allen's doing here," McCullough said. "So when they left, nothing really changed with my mindset."
Though Deland is no longer around the Hoosiers, he and Dasan still talk every day. Because the IU-Illinois game was on Friday night and Notre Dame played on Saturday, Deland watched the game on TV. He called Dasan afterward to tell him how proud he was.
There won't be many occasions when that will be possible this year. But they'll still talk, and go about their own business.
And for Dasan, that means making plays for Indiana in a lot of different ways.
---
The Daily Hoosier –"Where Indiana fans assemble when they're not at Assembly"