For a while, an Indiana vs. Northwestern Big Ten Championship game appeared to be a strong possibility.
Northwestern quarterback Peyton Ramsey has nothing but good feeling towards his former teammates and coaches at IU, but he was in no mood to become a distraction from the Wildcats' special 2020 season.
As that 2020 season progressed, Ramsey was aware of the increasing chance of playing against a program where he spent four seasons — and facing a litany of questions about his time in Bloomington and decision to transfer.  While he found no joy in the Big Ten decision to place Ohio State in the title game, the former IU quarterback did feel a sense of relief.
Been there, done that, let's move on.
"I really didn't want to play Indiana," Ramsey said this week on The Draft Analysts with Tony Pauline & Chris Tripodi.  "All those guys, I had met so many great people along the way.  The emotional roller coaster and the media circus that it would have been, kind of would have taken away from playing in a Big Ten title game."
As a redshirt freshman Ramsey wrestled the starting job away from Richard Lagow, and as a junior he led IU to several big wins when he stepped in for the person that wrestled the starting job from him, Michael Penix.  Above all, Ramsey proved he was a competitor during his time at Indiana.  And of course, he would have been up for the challenge had it been Indiana rather than Ohio State for the championship.
"Trust me, I would have gladly ran out there an played my heart out if we were playing the Hoosiers, but a big part of me was glad I didn't play against them," Ramsey said.  "I had no hard feelings against Indiana or anybody there.  It was not like I needed a revenge game."
Ramsey decided to forego a sixth year in college and is now training for the NFL Draft.
The Cincinnati, Ohio product had a strong season in Evanston.  He started every game and led the Wildcats to a 7-2 record while completing 61 percent of his passes with 12 touchdowns and eight interceptions.  Ramsey threw for 1,733 yards and added 247 rushing yards and three more scores on the ground.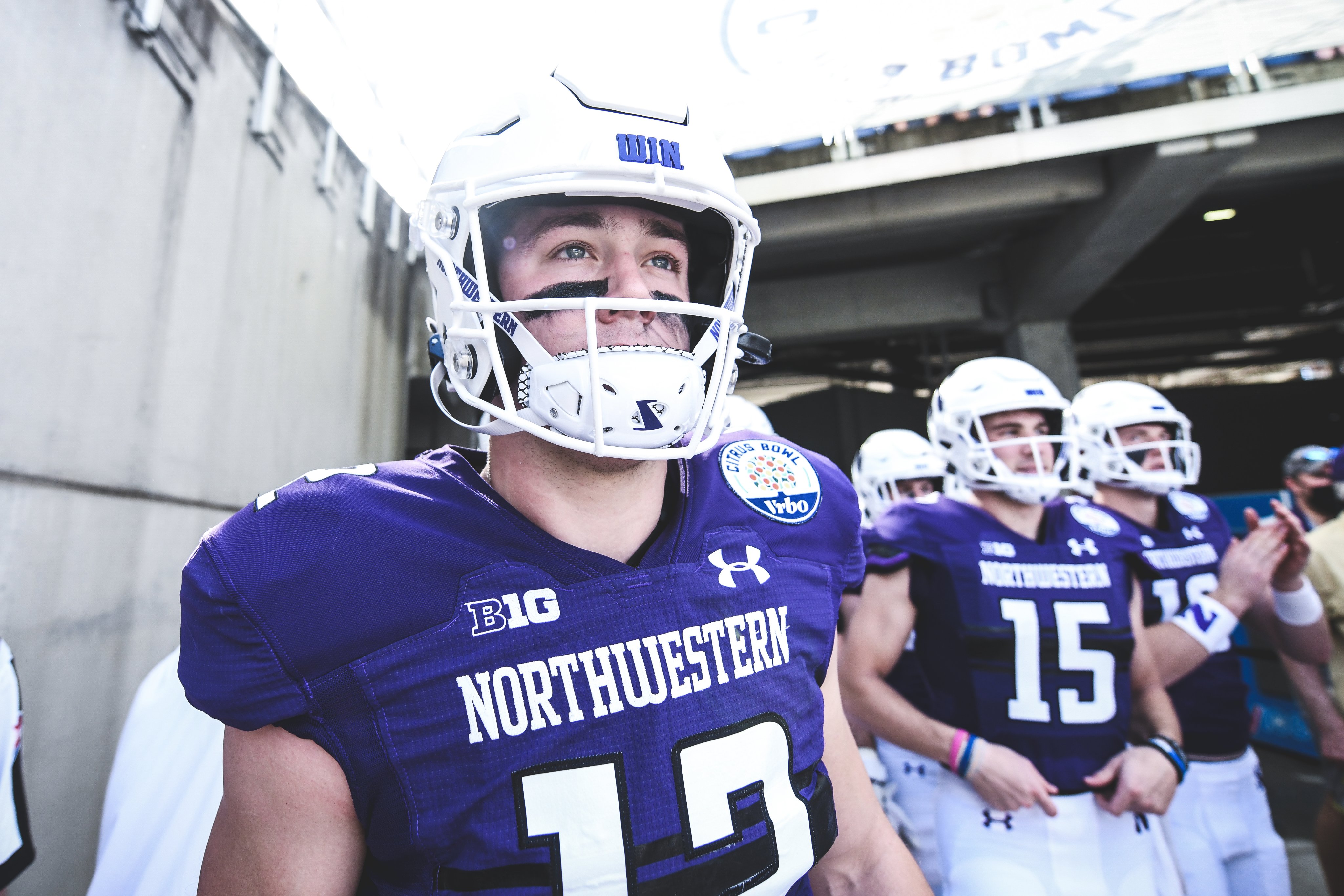 As his redshirt senior season progressed, Ramsey knew that a matchup with Indiana in Indianapolis was a growing possibility.  He was also paying attention when the Big Ten decided to change its rules and place Ohio State in the title game despite not reaching the league's requirement to play six games.
"I was definitely aware of it, I came from Indiana and was there for four years," Ramsey said.  "I still follow the entire Indiana faithful on social media, and I recognized they were upset about it.  I don't have an opinion on it.  Maybe if I played at Indiana I would."
While he wasn't cheering on that Big Ten decision, when it came down from the league it became a realization that he wasn't going to have spend a week rehashing a difficult phase of his career.  But Ramsey talked on the podcast about the moment he learned that Penix had won the starting job towards the end of fall camp in 2019.  It was a very close competition, and the outcome even caught Ramsey off guard.
"I was very surprised," Ramsey said.  "I remember getting a call to head up to his (Tom Allen's) office, thinking I was going to get some good news but unfortunately I was on the other side of the chair that time.  It was a tough pill to swallow, it really was."
Ramsey said he never thought about transferring in 2019 after losing the starting job, but once he earned his degree and the direction at IU became clear, it was time to make a move.
"I accomplished the first goal that I set out when I went to Indiana, and that was to graduate," Ramsey said.  "They had made it clear, coach Allen and the staff, that they were going to go with youth with Mike, and (that was a) great decision as you could see this year.  Unbelievably talented kid, awesome person.  But they made it clear that it was his time and I graduated so I felt comfortable enough to step aside and go my separate way."
Ramsey clearly made a good decision for his own career, and sometimes a difficult choice turns out well for everyone involved.  That clearly seems to be the case here, as Ramsey and Penix led two of the three best teams in the Big Ten to the postseason.
And that outcome was good enough for Ramsey.  He had no hard feelings, and nothing else to prove to IU.
"I loved Indiana," he said.  "I loved it as a place, as an institution and as a football program.  It brought me a lot of joy."
---
Find us on Facebook:  thedailyhoosier
The Daily Hoosier –"Where Indiana fans assemble when they're not at Assembly"
Seven ways to support completely free IU coverage at no additional cost to you.