To a certain extent, Indiana has had to earn its respect on the recruiting trail with results on the field.  And now after a 2020 season that saw IU ranked in the top-10 and competing for a spot in the New Year's Six bowl games, there are some early signs that the Hoosiers are gaining the attention of a different caliber of recruit.
How high is this coaching staff going to aim in an attempt to capitalize on that recent success and further advance the program?  New defensive coordinator Charlton Warren recently summarized his approach.
"We are not going to get them all, but if you do not try, you will not get any of them," Warren said last week.  "We will try, we will get in the ring, we will throw our punches, and we are going to try to get the best young men for Indiana University to help us develop our team culture and help us win games in the future."
Indiana is not only trying when it comes to highly regarded talent in the high school ranks, they appear to be legit contenders for several top prospects.
Last week we told you about Florida based linebacker Melvin Jordan, who is a 4-star recruit and the No. 264 overall player (all stars and rankings according to the 247Sports Composite) in the class of 2022 as of this writing.  Jordan played his 2019 season at IMG Academy under IU tight ends coach Kevin Wright, and he included Indiana in his top-five.
Christen Miller is a top-200 class of 2022 4-star defensive tackle who included IU in his top four along with Georgia, Florida and Georgia Tech.  Miller is ranked the No. 10 tackle in the country and was the high school teammate of class of 2021 IU signee Jordan Grier at Cedar Grove H.S. in Ellenwood, Georgia.  He plans to announce his college decision on April 4.  He is rated higher than all but one recruit that Indiana has landed during the rankings era.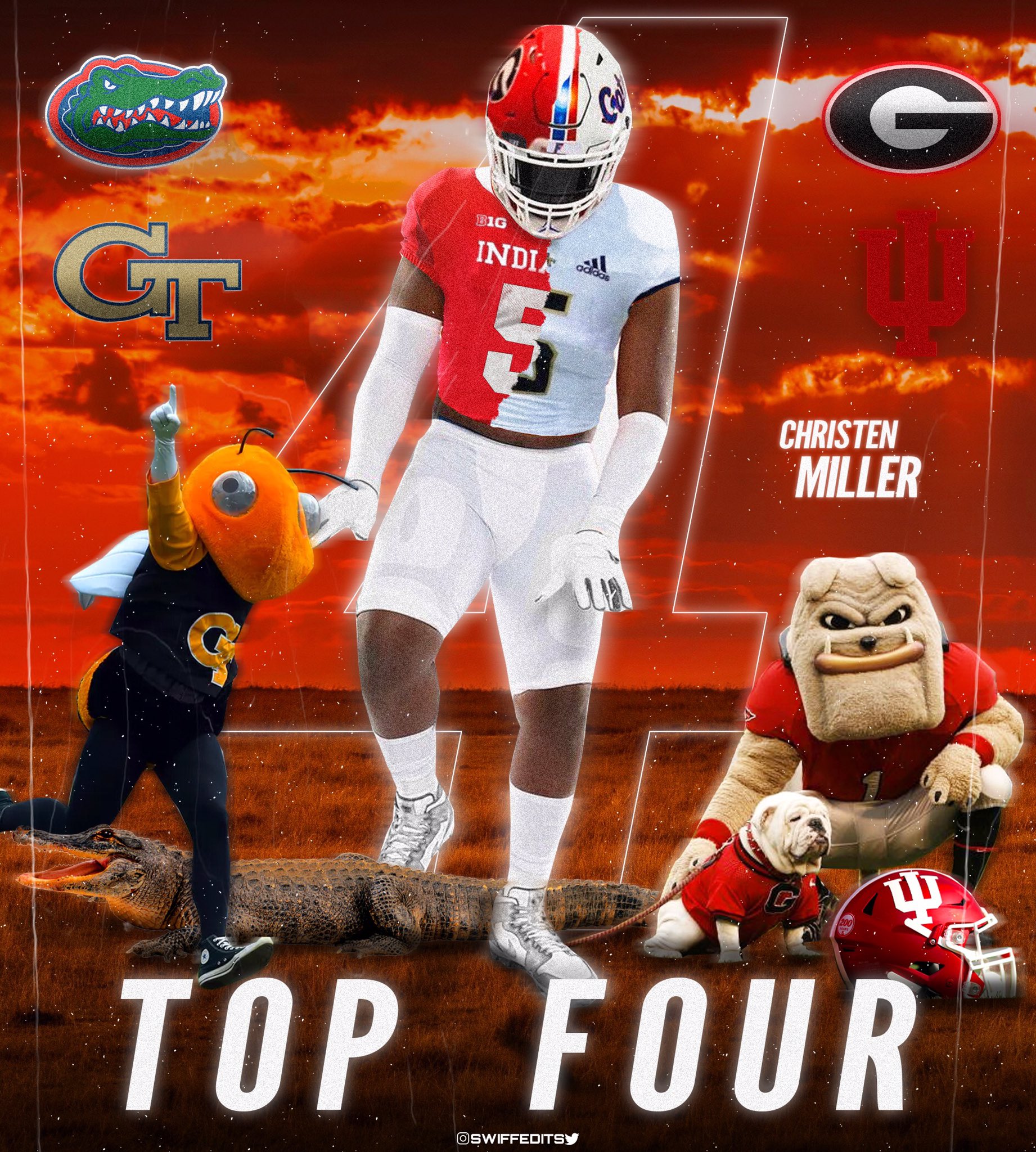 Jalon Peoples is ranked No. 337 overall in the class of 2022, the No. 31 cornerback nationally, and he is a 3-star recruit.  The Cedar Hill, Texas product included IU in his top five this weekend along with Nebraska, Ole Miss, Baylor and Tennessee.
With Tiawan Mullen, Jaylin Williams, and Reese Taylor all potentially playing their last seasons in 2021, IU can make a strong case for early playing time.
Peoples has a higher player rating than any corner IU has landed in the rankings era, including Mullen.
https://twitter.com/D1Jay3/status/1355705462927339520?s=20
Zane Durant is ranked No. 360 overall, and he is the No. 19 strong-side defensive end in the class of 2022.  The Orlando, Fla. product also holds offers from USC, Penn State and Auburn.
Indiana has been involved for a while and has Durant's serious attention.
"The pass rusher is making it a priority to visit Bloomington whenever the NCAA gives the green light for recruits to get out on the road," Andrew Ivins wrote of Durant for 247Sports.
IU has also been mentioned regularly as a top contender for Indianapolis based 2022 defensive lineman Joe Strickland along with Michigan, Penn State, Minnesota, Virginia and Stanford.  A 4-star, Strickland is ranked as the No. 202 overall player in the class and the No. 11 strong-side defensive end.  As a junior last fall, Strickland recorded 50 tackles, 13 quarterback hurries, 11 tackles for loss and 6.5 sacks.
Malachi Bennett is a high-level class of 2021 name to know as the traditional national signing period approaches this week.
Bennett is the No. 431 overall player in the senior class and the No. 68 wide receiver.  The Fairfield, Ala. product decommitted from UAB and received offers from the likes of Georgia, Ole Miss, Tennessee, South Carolina, and others.  Based on a Rivals report last week, Indiana appears to be in a good spot with Bennett.
"(IU receivers coach) Grant Heard has done a great job recruiting Bennett, and the talented wide receiver out of Alabama looks to be leaning towards the Hoosiers," Chad Simmons wrote for Rivals.
Warren said IU would get in the ring and throw punches, and that is exactly what they have been doing with new offers in recent weeks too.  Just as examples over the last few days, the Hoosiers have offered 2022 4-star safety Bryan Allen (No. 71 overall) and 2022 4-star receiver Barion Brown (No. 247).  When top-500 2022 safety Emory Floyd announced his IU offer last week he referred to Warren as "one of my favorite coaches."
In the class of 2023, IU offered the top cornerback in the country, 4-star Tony Mitchell.
---
Find us on Facebook:  thedailyhoosier
The Daily Hoosier –"Where Indiana fans assemble when they're not at Assembly"
Seven ways to support completely free IU coverage at no additional cost to you.