Jay Franklin had started compiling a list of critiques for his little brother that he was planning to hit him hard with when he trudged up Assembly Hall's east grandstand when the game was over.
Indiana was going toe-to-toe with a top-10 Iowa team, but for once, sophomore guard Armaan Franklin didn't have much to do with what was going right. He'd missed all five of his shots in the first half, picked up his fourth foul with 15:43 still to go in the second half, and it took him almost 35 minutes to score a point.
Their mother, though, wasn't having any of that.
"We were going at it because he was like, 'You guys wait until the game is over, I'm going to tell him he didn't do this and he didn't do that,'" India Franklin said. "I'm like, 'No you're not. You're not. Don't you think he's beating himself up enough? At dinner we're not going to do that. I'm his mother and you're not going to talk smack about my kid.' The people behind us are probably cracking up."
Jay and India were still cracking on each other about who was and wasn't going to say what to who when Armaan hit a pull-up jumper for the game-winner from about 17 feet from the left elbow with under 2 seconds left. He turned and bounded down the floor and immediately pointed at India, Jay and several other family members in the stands, who had formed a small section with their No. 2 jerseys in the socially-distanced crowd.
"We both look at each other and we just fall out laughing," India said. "(Jay) was like, 'Yep, I'm gonna just leave that alone then. We're not going to have that discussion. He's OK.'"
A big part of the reason Franklin has been much better than OK this season, however, is because of India and Jay and his other older brother De'Andre and other members of a family that helped Armaan evolve every bit as much as he wanted to since last year despite all the obstacles of the strangest offseason in college basketball history.
Franklin's numbers have dipped recently thanks in part to lower leg injuries, and thanks to a bone bruise on his right heel it's uncertain if and when he'll get back on the floor this season. But his growth as a player is perhaps the most important positive development for the Hoosiers in an otherwise disappointing 2020-21 season that has them on the outside looking in to the NCAA Tournament going into the regular season's final weekend. Regardless of what happens going forward — whether or not Indiana decides to move on from coach Archie Miller or whether or not Trayce Jackson-Davis decides to move on from Indiana to the NBA — IU has a lead guard for the next two years that it can depend on to produce on both ends of the floor, regardless of matchup.
The 6-foot-4, 195-pound Indianapolis Cathedral High School graduate is one of the Big Ten's most improved scorers, averaging 11.6 points per game after scoring just 3.7 as a true freshman. That 7.9 ppg jump is the second highest in the Big Ten to Ohio State's E.J. Liddell, whose average is up over 9.0 ppg. After making just 26.6 percent of his 3s last season, Franklin leads the Hoosiers this year in both 3-pointers (36) and 3-point field goal percentage (45 percent). He leads Indiana's guards in overall field goal percentage (43.5 percent), he leads the team in steals with 26, he's third on the team in assists with 2.2 per game and he's more than doubled his rebounding average to 4.2 per game.
But most importantly, he's become the guard Indiana's coaching staff trust most when they need someone to find somehow, some way to get a bucket, and he's earned enough trust in himself to do it even on otherwise bad days.
"Just the confidence, watching him play with confidence has been the most rewarding thing," India said. "When he steps into who he is and plays with that confidence it's been the most rewarding."
He got that confidence because he was honest with himself about his freshman season, and because his family support system made sure he could get every bit as much better as he wanted to.
---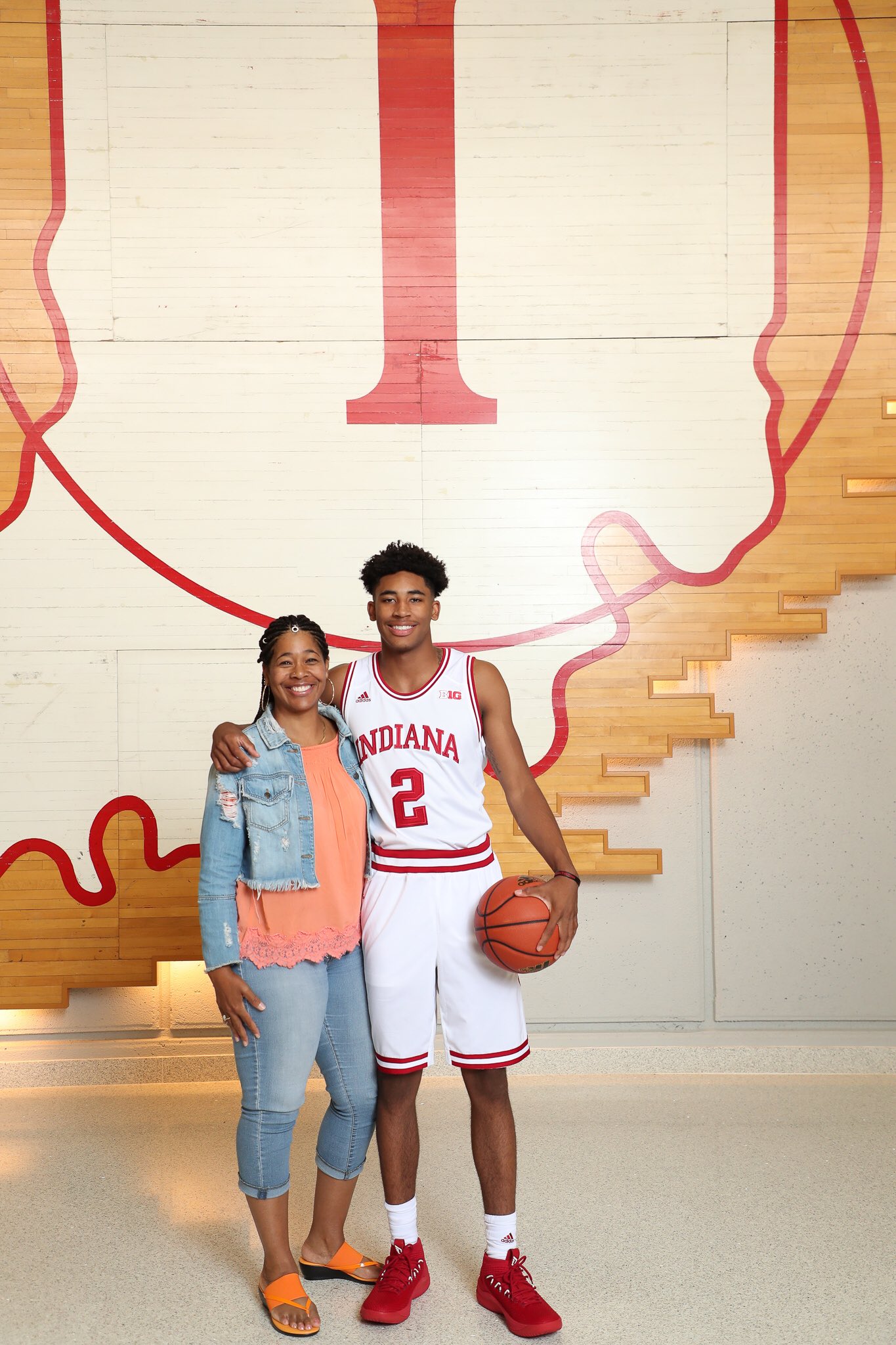 Franklin didn't make it a week into the pandemic shutdown before he started feeling restless.
The game that ended up being his last for the 2019-20 season had been one of this best. He hit three 3-pointers and finished with 13 points and eight rebounds against Nebraska in the Hoosiers' first-round Big Ten tournament win. However, in that same game, Nebraska coach Fred Hoiberg showed signs of illness. It was not COVID-19 as feared, but it added momentum to the push to shut down sporting events. The NBA season was suspended that night, and the remaining conference tournaments and the NCAA Tournament were cancelled the next day.
Franklin returned home frustrated with the fact that the season had ended without the Hoosiers getting to use the tournament berth they appeared to have earned, but also annoyed by some of his freshman missteps.
His double-figure scoring effort against Nebraska had been just his second all season. Both had occurred in Indianapolis' Bankers Life Fieldhouse with the previous one being a 17-point performance against Notre Dame in the Crossroads Classic in December. Outside of those two games, he'd scored seven points or more just two more times all season. Seven of his 17 3-pointers came on 10 attempts in those two games in Indy. The rest of the year, he was 10 of 54 (18.5 percent) from beyond the arc. He wasn't any better in the mid-range, making just six of the 25 shots classified by hoop-math.com as two-point jumpers. Wing Damezi Anderson was the only Indiana player who posted worse effective field goal percentage and true shooting percentage figures than Franklin's 42.4 percent and 45.6 percent figures, and Anderson transferred to Loyola (Ill.) in May.
And it wasn't just the shooting that bothered Franklin. He felt good but not good enough about his defense and not all that great about what he did in general with the ball in his hand. He started the season's first nine games thanks in part due to preseason injuries in the backcourt, but slowly saw his minutes decrease as Miller shrunk the rotation. Between Feb. 1 and that March 11 win over Nebraska, Franklin never played more than 10 minutes in a game and scored a combined 10 points in 10 games.
"He is his biggest critic," Jay said. "He just wanted to be more aggressive all the way around, offensively and defensively."
And being aggressive and sitting on the couch in the early days of the pandemic didn't jive. He'd initially told India and his brothers that he planned to take a week to unwind. But he started getting antsy much quicker. The gyms were closed and he didn't know if he could trust the courts at the parks — Indianapolis city authorities eventually stuck wood blocks in the rims to prevent pickup games in case that would lead to viral spread  — so he didn't have any place to shoot.
So he asked his mom for one.
"It was like a whim," said India, who works in health care administration with the IU Health network in Indianapolis. "He just got up one morning and said, 'I need a hoop.' I was like, 'You mean, like, right now?' He's like, 'Yes, can we just go get a hoop?' We went to Wal-Mart and I was still paranoid about being out, being anywhere. We got in, he picked it out, I'm like, 'Let's get it and get out of here.'"
It was a portable hoop, India said, one with an area that needed to be filled up with sand or water to get it to stay in one place. De'Andre came to the house that night to help Armaan set it up and Armaan started workouts on it the following morning. De'Andre and India helped him mark off lines on India's driveway for the foul line and the 3-point line. It's not wide enough for them to take it all the way out to the wings and the corners, but Armaan at least had an idea of the distance at the top of the key.
This is how the Franklin family works. It's how it's always worked, going back at least a generation. They're devoted to each other, and they do everything possible to make sure each of them get to chase their dreams as far as they want to. They each invest in each other in such a way that every member of the family feels the full weight and support of the rest of it.
"It's kind of how it's been his whole basketball career," India said. "If he needed something, I had to make it happen, I wanted to make it happen. It was his dream and I saw the love and potential he has for the game. As a mom, and as a single mom, you sacrifice a lot to get him where he is now."
India's mother set that precedent. She was a single mom with five kids, and she made sure each of them got in as many activities as possible. India ran hurdles on the track team, played volleyball and basketball and joined the marching band and pom pom squad. Her sister, now Coquese Washington, starred at Notre Dame and then in the WNBA. She's now the associate head coach of the women's program under Niele Ivey at Notre Dame.
India and her family followed Washington around for much of her WNBA career, living in Houston while she was with the Comets. Now, Washington is still available to Armaan any time he wants to go over film. Armaan tagged along to De'Andre and Jaqualen's games growing up, as De'Andre ended up playing football at St. Francis (Ind.) and Jaqualen played basketball at Toledo and Lane College in Tennessee. Now both of them are available for whatever he needs — advice, film study, someone to rebound his shots, or, as previously mentioned, somebody to construct a portable hoop.
"We're not living through him," Jaqualen said. "There's no pressure. We just want him to do what he wants to do."
And what Armaan wants is to be great, so he seeks out whatever help they're willing to give. Last spring and early in the summer when everyone was operating on quarantine rules, they had a lot to devote.
---
It should be noted again that the reconstruction of Armaan Franklin's game still started with Armaan Franklin. He was determined not to let many days go by without getting better, even though the world around him was at a stand still with no idea of when anything resembling normal life would come back, much less college basketball.
"He's a find-a-way type of guy," Jay said. "He got to work on his own. Nobody told him he should get up and start working out. He got back to it even before he said he was going to."
But his family was there to provide anything they could to add to the experience. India let him use her spin bike and a climber machine so that he could add an indoor cardio workout when the weather was bad and he couldn't go outside. All three of them came out to the hoop to rebound for him and even to act as defenders to make it harder on him to get to the rim.
India very much included.
"I kind of over-did it," she said. "I would get out and I would hack him to death. The Big Ten is physical, and I was trying to be as physical as I could be as a mom. I was doing everything I think people would do to him when he was trying to get a shot off. Coming across his body, hitting his arms. He was like, 'You're a hack.' I was like, 'Yep, the Big Ten is going to hack you to death, so get used to it.'"
The Franklins also had professional help. In Armaan's sophomore year at Cathedral, De'Andre reached out to an old friend named Lloyd McBride who had started training athletes three years earlier. McBride started training Armaan and helped him work on his skills and especially his athleticism. Going into his senior year, Armaan didn't have the vertical leap he wanted, and his work with McBride added several inches to it and helped him get at least on a level playing field with the rest of the freshmen entering the Big Ten.
McBride moved to San Antonio, Texas in December of 2019, not long after Franklin's breakout game against Notre Dame. But he had a group text set up with both Jay and Armaan where he and Jay engage Armaan about his game with critiques and film clips.
This offseason, that group text got a lot accomplished. The first thing was fixing a hitch in Armaan's jump shot, which Jaqualen and McBride both noticed during the season.
"We noticed that he was leaning a little bit to the left with his shot," McBride said. "He'd have wide-open opportunities, and you could always tell when a shot was going to go in and when it wasn't. We got a whole lot of clips from last year that we showed to him and we worked on getting his shot back to his right side."
The other major focus was working on Franklin's decision-making and an understanding of what his options were in given situations. They sent him clips of NBA players he wants to model his game after — in particular Damian Lillard and C.J. McCollum of the Portland Trail Blazers and Devin Booker of the Phoenix Suns. As they have since his sophomore year at Cathedral, they watched film of plays even when he made the right decision got him to pause it at the moment he took a shot or made a decision and then asked him to consider the other options on the table and what he might have done if his defender was closer or farther away or if there were another small tweak in the situation. Franklin is a cerebral player, and the method fit his style of learning well.
"He's very perceptive and he soaks everything up like a sponge," McBride said. "The one thing I've always stood on is never give someone the answers to everything. The biggest thing is when we talk about it, it's never a thing that we know everything and he's supposed to just listen. It's a conversation and he can share what he thinks and sees."
Those conversations aren't always pleasant, and Armaan wants it that way. He doesn't want the truth hidden from him. Sometimes he bristles and the criticism he gets back, but he also applies it.
"It's not always peaches and cream," Jay said. "Armaan gets frustrated and I get the brunt of the frustration because I was a basketball player too. I get yelled at sometimes. He's hard on himself, but we're no nonsense. Sometimes when we talk to him, he might hang up and act like he's upset, but one thing mom saw was that he listens. Whatever we tell him, he usually does in games even if he doesn't like it when we tell him."
And they could tell he listened and took it serious when his sophomore season came around.
---
India knew by the time Armaan went back to Bloomington and the Hoosiers started offseason workouts — under intense COVID-19 protocols — that he was primed for something special.
"I knew it was coming," she said. "To me, he was already a different player based on the work that he put in during the pandemic. He was, to me, a lot more mature. And he's never been immature, but maturity on the court."
The preseason was apparently enough for Archie Miller and Indiana's staff to see it too. With veteran guards Rob Phinisee and Aljami Durham and wing Jerome Hunter coming back and freshmen Khristian Lander, Anthony Leal and Trey Galloway joining the backcourt, Franklin had to battle for a starting job, but he won it by opening day and he never relinquished it.
By the end of the Maui Invitational in Asheville, N.C, Franklin established that he could be a weapon on defense and on the glass. He has the length that Phinisee, Durham and Lander don't, and that proved important in the Hoosiers' win over Stanford. Franklin defended freshman star Ziaire Williams, the 6-foot-8 wing and No. 6 recruit in the Class of 2020 and held him to four points on 1 of 10 shooting. Franklin had 13 points and eight rebounds to go with five assists in that game.
"I've always wanted to be one of the best defenders that we have," Franklin said. "Wanted to be able to impact the game on both ends. Just wanted to be able to get better at it."
Franklin's offense came a little more slowly, especially his shot. Through the season's first five games he was 2 of 12 from the 3-point arc. But then he went 5 of 7 from 3 in a 19-point game against North Alabama and got back into the friendly confines of Bankers Life Fieldhouse and went 5 of 7 from 3 again in a 20-point game against Butler. Those began a five-game tear in which he averaged 18.8 points per game and shot 54.8 percent from the field and 60 percent (18 of 30) from beyond the 3-point arc.
The shots were better, but so was his decision making. He showed better body control, and an understanding of when to shoot, when to go to the rim, and when to pull up either in the lane or before it when a defender got in his way. He got more effective handling the ball in pick-and-roll situations, knowing when to pull up, when to go to the rim, and when to get it to big men Trayce Jackson-Davis and Race Thompson on the roll.
Franklin's offense came without a cost to his defense. In that five game stretch he had at least two steals in each game.
"He got better at learning how to play in the confines of what coach wanted to do," Jay said. "As a freshman, he was doing a lot more thinking. Basketball is kind of read and react. That has a lot to do with him finding his role. Once he stopped thinking the game and started playing the game more naturally, he became better with his decision making. Not that he was bad, but it enhanced his decision making because you're not trying to out-think everyone on the court. You're reading and reacting."
His season took a speed bump in early January when he went down with a high ankle sprain in the first half of the Hoosiers win against Maryland. That cost him two games and hampered him once he came back. But he was still effective when playing through that until he suffered the injury to the right foot. He scored in double figures in nine of the 11 games after his return before suffering the new injury against Rutgers on Feb. 24.
His numbers are drastically better across the board. His field goal percentage (43.5 percent) up from 34.8 percent a season ago. His effective field goal percentage (52.9 percent) and true shooting percentage (55.8) are way up, and his free throw percentage is up to 74.1 percent from 61.5 percent. The only place he's worse is at the rim, but he's going there more and facing more opposition.
"Armaan has a good feel for how to play," Miller said. "With the ball and without, we've always thought that from an offensive standpoint, even though he's not the highest jumper or the quickest guy, he has a good feel for plays in the game. I think as the season has progressed, he's really been able to give us a guy who can get downhill, make some plays in the paint and be a creator for us in tough times. From an offensive standpoint, you're seeing a more developed player with the ball in his hands."
There is still, of course, more development to make. Franklin will have a lot of healing to do before next year and he'll return much more of a marked man than he was this season, especially if Jackson-Davis leaves for the NBA. For he and his family, improvement is a constant process, and he's already talking about next steps — getting stronger and finishing better at the rim, getting better at the free throw line, and even becoming more of a leader for the program, something he's done occasionally so far but seems to have the capacity for.
"That's coming," India said. "I see it. I know who he's becoming off the court as well."
And he knows he'll have all the help he needs to become that person.
You can follow Dustin Dopirak on Twitter HERE
---
Find us on Facebook:  thedailyhoosier
The Daily Hoosier –"Where Indiana fans assemble when they're not at Assembly"
Seven ways to support completely free IU coverage at no additional cost to you.