Mike Saunders doesn't remember what exactly it was his son did wrong. Maybe there was a turnover, or a missed free throw or a botched defensive assignment. Maybe a collection of mistakes. Mike Saunders Jr. was, after all, in fourth or fifth grade at the time, so it could have been anything.
But the elder Saunders was the coach and the younger the point guard on a high-level grade school AAU team — George Hill Rising Stars. And as tends to happen from time to time when fathers coach their sons, Mike Sr. chewed Mike Jr. out during a timeout and did it in front of the rest of the team — consciously or subconsciously sending the message to the rest of the players that he doesn't play favorites.
Mike Jr., still getting used to this dynamic at the time, was visibly distraught. So before they returned to play, Trey Galloway put his arm around him and explained why his father said what he said. Galloway's father is the head coach at Culver Military Academies, so he knew the drill.
"He told Mike, 'Hey, he's your dad,'" the elder Saunders said. "'He's going to push you a little bit harder. They challenge us because they love us.'"
It wouldn't be surprising to hear Galloway say this now that he's seen the coach's-son experience pay off. Now that he's a 6-foot-5 wing who won a state championship and been an Indiana All-Star, earned an Indiana scholarship and cracked the Hoosiers' starting lineup before anyone else in his freshman class.
But Galloway is Mike Saunders Jr.'s age — Saunders Jr. is a freshman at Cincinnati now — which means he too was in fourth or fifth grade when he pulled him aside.
This wisdom was coming from a 10-year-old.
"It was shocking," Saunders Sr. said. "Because we're talking about kids that are in elementary school. Their biggest critics at times are their parents and there is no outlet for these kids. You knew with Trey, because of who his dad was at the high school level, he had already had it instilled in him. You're a coach's son. You're going to always have to show on the court you're better than everybody. You have to leave no doubt in anybody's mind how good you are, so nobody can say, 'Oh, he's the coach's son. That's why he's playing.'"
Saunders Sr. points to that moment as one that helped him and his son understand each other, which put Mike Jr. on the path to being a high-level Division I player. It's also a moment that almost perfectly encapsulates Galloway, the player and the person.
If there is a singular explanation for why Galloway has achieved what he has achieved, it's that he always got what it meant to be a coach's son. With maturity far beyond his years, he has welcomed the burdens and wholly embraced its blessings, knowing that the access he had to knowledge, to mentorship and training, and simply to the gym keys, were priceless advantages that could unlock any and all potential he had within him.
"I think it's definitely helped me, especially him having the knowledge of the game and just being around the game for so long and having coached a lot of good players," Trey said of his father. "I think he's been able to teach me a lot of things that have helped me translate into the college game. We've just been around the game so much and I've been around him coaching all my life."
Under his father's tutelage at Culver he became the most decorated player in the school's history, graduating as its all-time leader in scoring and assists. He won one Class 3A state title as a sophomore, played for another as a junior and might have had another title in 2020 if not for COVID-19. He so quickly earned the admiration of another coach's son, Indiana coach Archie Miller, that he found himself in the Hoosiers' rotation and briefly in its starting lineup before any of the other three freshmen in his class, all of whom finished higher than him in the 247Sports composite Class of 2020 recruiting rankings.
Galloway has had his freshman struggles — especially from the 3-point arc where he's shooting 20 percent — but he stays part of the rotation because Miller knows he'll go out on defense, attack and make smart decisions on offense. He averages 21.2 minutes per game and has the fourth most assists (34) and fewest turnovers (17) of any IU player averaging at least 20 minutes.
"Having the coach trust you is really important on both ends of the floor, defense and offense," Mark Galloway said. "That's the one thing that sticks out to me, a lot of times with Trey, is how much I trusted him in high school and AAU and how much other coaches have trusted him."
Galloway has earned that trust because he's also given it. From the beginning he believed in his coaches — especially Mark but also others — and believed he could get back from the game what he put into it.
---
Mark Galloway himself was a star basketball player, just not an athlete of his son's caliber. He starred at Plainfield High School, then became the most decorated player at Bethel College in Mishawaka. He graduated as the school's all-time leader in points with 2,622, was a first-team NAIA All-American as a senior in 1995 and led Bethel to a pair of National Christian College Athletic Association national championships.
He got into coaching not long after, and within a year after Trey was born in November of 2001, he was the head coach at Carmel High School, the biggest and one of the most resource-rich schools in the state of Indiana.
Trey never knew Mark as anything other than a head coach and he embraced that reality immediately. Starting when he was around 3 or 4 he would come to Carmel's practices. He didn't need his mother there to keep an eye on him or anything else to keep his attention.
"He was 3 or 4 years old and he was at one of our practices at Carmel," Mark said. "One of my assistants came up to me and said, 'You know, a lot of kids, usually they're here playing with toys.' He would sit in the bleachers with a basketball in his hands and just watch. He would stay quiet, which a lot of little kids can't do, they're running all over the gym. He would just sit in the bleachers and watch a two-hour practice. That's something he did. I didn't drag him or make him come to the gym."
The younger Galloway got to see his father coach at a time when the Midwestern Interscholastic Conference, of which Carmel is a part, was arguably as loaded with NBA talent as it has ever been. He saw Greg Oden and Mike Conley Jr. at Lawrence North, Eric Gordon at North Central, Courtney Lee and Jeff Teague at Pike just to name the NBA players. He also saw his father coach a McDonald's All-American in Josh McRoberts, who went on to play at Duke and then spend a decade in the NBA.
Mark had to resign his position at Carmel in 2010 because of a well-documented hazing scandal, and he was hired at Culver Military Academy when Trey was in second grade. The Galloways lived right across from campus and until ninth grade when Trey could enroll at Culver, he stopped in the gym every day when he returned from attending public school in the Plymouth district to watch his father's teams practice. Trey watched Mark watch film, and he followed him to camps. He became something of a Duke fan by attending Mike Kryzyzewski's camp and started wearing No. 32 out of reverence for Christian Laettner, even though Laettner was out of the NBA by the time Trey was 4 years old. He became obsessed with the game's history, and befriended a Culver fan who had known Pete Maravich. That man gave Trey a pair of Maravich's socks, which are among Trey's most prized physical possessions.
Trey went to all of Culver's games and travelled with his father on the road, and when he could parlay that into instruction time from his father or even just an opportunity to dribble or handle the ball on an open floor, he took it. And Mark used the time to teach him.
"I remember we had just won the sectional title our first year with Mark," said Ed Kelley, Culver's freshman team coach and a master instructor of humanities at Culver. "He was in the locker room before we were getting ready to get on the team bus and go. I was on the floor shooting around with Trey, who was a third grader. He's shooting from the hip. Mark comes in and he's like, 'We gotta get going.' Trey lays the ball in, because you gotta make the last shot before you leave. Then Mark says, 'No, you gotta make five 3s in a row.' I kinda chuckled, but Trey starts shooting. And I'm thinking, 'Holy (expletive), they gotta get on the bus.' And Trey only needed six shots. And they acted like it was nothing. They were not surprised at all, and I'll never forget that."
That moment, Kelley said, captured the Galloway's dynamic. Mark and Trey have said that they did butt heads at home at times, but they almost never did so publicly. Because when Mark told Trey to do something because it would help him improve his game, Trey generally did it. That meant staying after practice not just to shoot more jump shots, but to work on his left hand or his passing, or to do squats or defensive slides. Trey identified his father as someone worth listening to, so he listened.
He didn't even push back, Kelley said, when Mark refused to start him as a freshman even though it was clear Trey was clearly one of the team's top five players at the time.
"They have this unwavering trust of each other," Kelley said. "Trey knows his dad played the game at a really high level, was extremely successful, knows the game and is going to put the team in a really good position even if it means Trey's going to have to pass or Trey's going to have to be on the bench. Trey is not going to complain because he's like, 'I want to win and this guy is gonna put us in a position to win.' It comes back to Trey's personality, willing to play any role, and Mark also trusting Trey that, this guy is not gonna be selfish, he's gonna work hard and he's going to get his teammates to work hard too. There was no drama because there was this unwavering trust, and it is pretty unique."
The trust was there in large part because Trey was so internally driven, and fueled by his own successes and defeats throughout a childhood he was traveling nationwide with Saunders' team and facing off against the best players his age in the country.
In 2014 when he was in sixth grade, the George Hill Rising Stars lost in the 12U AAU National Championship tournament to a team that included current Gonzaga star and likely top 10 draft pick Jalen Suggs when Galloway missed a 3-pointer that put a game away. The following year, Galloway's team won the 13U national title with a win over 14-point win over Team Melo in the finals. In his freshman year at Culver, the Eagles lost 39-38 to Twin Lakes in the Class 3A regional semifinals.
"He went through some disappointments early on," Mark said. "The ups and downs have really helped Trey. He hates losing. It eats at him. Which is good."
The younger Galloway obsessed with fundamentals on both ends of the floor. He developed an advanced understanding of the game's geometry — how to create angles to make it easier to deliver passes and how exactly to use the big man in a pick-and-roll and how to get the ball to him in a place only he could catch it and where he could finish. On defense, he was ahead of the game when it came to rotations, knowing when to help helpers and filling in to box out on the weak side when the big man on his team would try to block a shot.
"I always said he was playing chess when everyone else was playing checkers," said Mike Fox, Galloway's coach at Indiana Elite.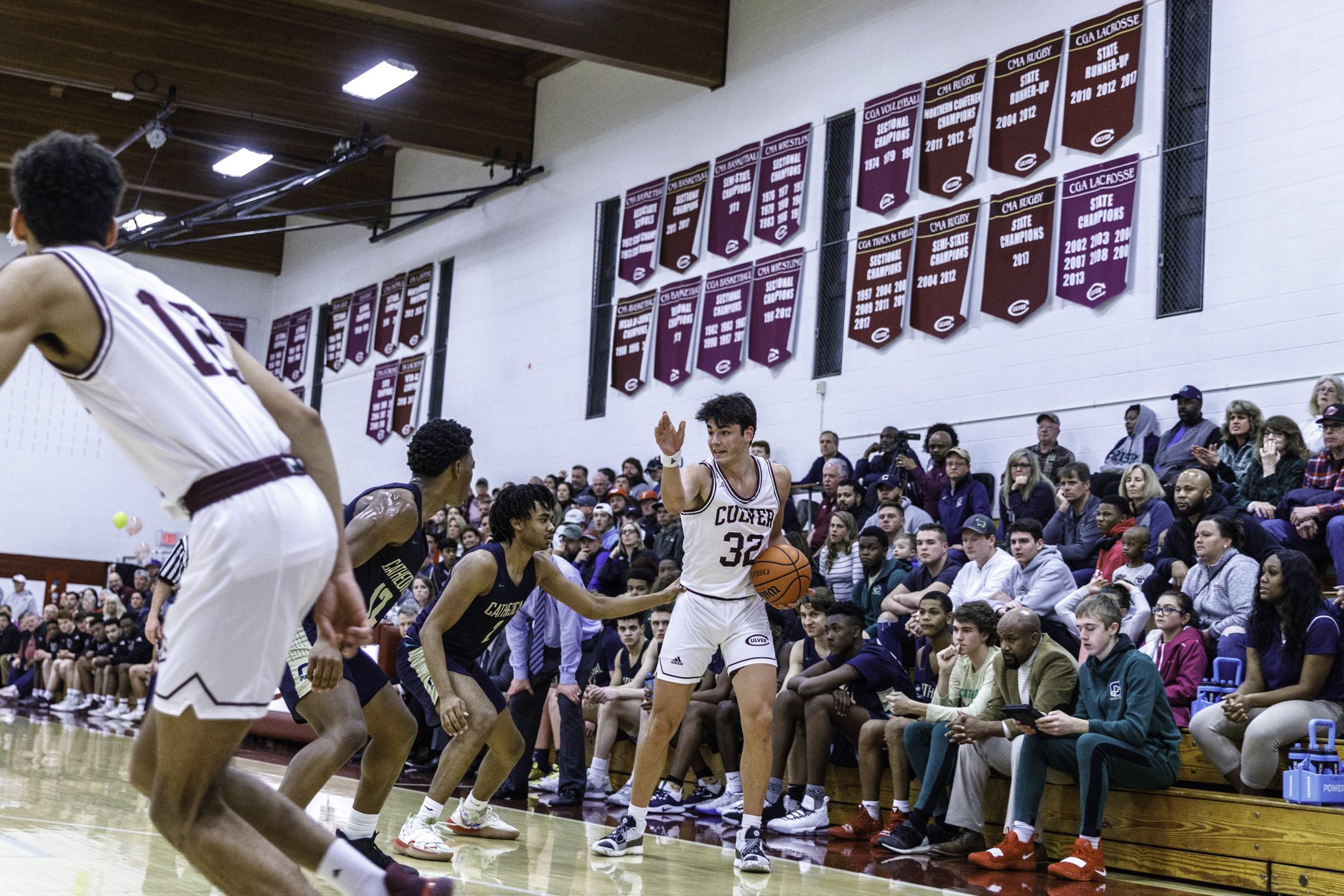 He also understood the necessity of knowing the enemy. He made it his mission to scout his opponent, figure out who their best offensive player was, take on that defensive assignment and shut that player down.  In high school, he was actually spending as much or more time watching film of opponents than Mark was, using his Hudl account to diagnose plays and figure out tendencies. Whether it was high school ball or travel ball in the spring and summers, Trey always knew what his opponents had and who his team had to take away.
"He always wanted to go up against the best kid," Saunders said. "He always wanted to guard the best kid. He's guarded the Jalen Johnsons. He's guarded the Jeremy Roachs, the Cade Cunninghams, the Jalen Suggs. So when he sees those kids across the court, he's already defended them. He's been in the trenches all his life. That's how Mark brought him up. And Trey would be the kid who would come up to you and say, 'Coach, we gotta make him go left.' 'Coach, we gotta make him shoot 3s.' He's not the guy who, you just roll the ball out and he figures out who he's defending then."
By the end of Galloway's career at Culver, there wasn't anything on the floor his father couldn't trust him to do. Though he was more naturally built to be a shooting guard or small forward, his Basketball IQ was too high not to have him run the offense from the point guard spot. He was effective as a scorer, passer, rebounder and defender, averaging 20.9 points, 5.2 assists, 5.5 rebounds and 2.3 steals per game as a senior.
Hyper competitive on the floor but compassionate on the sideline and away from the gym, he was also the Eagles' captain as much as they had one. As he did with Saunders as an elementary schooler, he would take teammates aside when they made mistakes, never embarrassing them in front of the rest of the group but connecting with them and lifting them up.
"With Trey, a guy misses a shot, a guy does something he didn't necessarily like, he could point it out in a way that didn't seem like he was coaching him down or putting him down," Fox said. "It's just little things that add up that make you feel like your teammates have your back."
Together, the Galloways put together the most successful stretch of basketball in Culver history. After that regional loss in Trey's freshman year, they claimed the Class 3A state championship in 2018 and reached the finals in 2019 before losing to Trey Kaufman Renn and Silver Creek. Last season, they moved up to Class 4A and won the LaPorte sectional title before the season was called due to COVID-19.
The onslaught of the pandemic took away Galloway's last chance to build on his Culver legacy and it cost him a traditional freshman preseason. The fact that he was able to get on the floor immediately anyway speaks to just how well he'd been prepared.
---
Mark Galloway tries really hard not to be that dad and it isn't easy because he is used to having a say in Trey's development as a player. He wasn't always Trey's head coach when he was growing up, but he was usually at least an assistant or someone the head coach would go to to bounce ideas off of.
So it isn't easy to stand back like he has with Trey at Indiana, especially when he's struggled to score the ball.
"It's maddening to be honest," the elder Galloway said. "I told Trey this one time. This is the most I've ever watched a team other than my team. I'll go back and just watch clips and watch the game. I'm overanalyzing everything. I've told him I've never done this with another team."
But what he isn't doing is voicing his concerns to Archie Miller and the coaching staff. He and Trey talk within a day or so after every game, but he makes a point not to tell the coaches what to do.
"It's nothing against any of those coaches," Mark said. "I'm not there every day in practice. That's something I always tell Trey. Everyone's a coach in Indiana. There's an old saying that if you listen to the people in the stands, you'll be sitting with the people in the stands. So you have to trust what you're doing."
So Mark has taught his son to trust his coaches, even the ones that aren't him, and he's built a player they can trust.
When he got to Indiana, Trey wasn't necessarily ready for the difference in the speed of the game, but he was made aware that there would be a difference that would take some adjustment. He arrived without expectation for what his role would be and with a willingness to take on whatever minutes and whatever role happened to be available. He knew he would have to defend first and figure out what his offensive contributions could be after that.
He knew that in part because that's what his father told him.
"Trey is athletic enough," Mark said. "But he's not athletic like (classmates) Jordan Geronimo or Khristian Lander. Those guys have a different gear. Anthony (Leal) might not be as athletic as Trey but he's strong and maybe a better shooter. So what I told Trey is, you gotta get stronger in the weight room. You have to pick and choose your angles because a lot of shots you used to get in the lane in high school, you're just not gonna get. I tried to prepare him with keeping guys in front of you defensively and staying attached to your man because in college you can't help off of guys because they'll bang 3s on you."
Galloway listened and it showed. It mattered not to Miller that Galloway was the No. 153 player in the class according to the 247Sports.com composite rankings and that Lander, Geronimo and Leal were all ranked higher. They all may have more upside, but from the beginning Galloway was more ready for what was being thrown at him. He quickly figured out his role in the pack-line defense and how he could create opportunities for teammates with aggressive dribble drives. He's arguably been Indiana's most effective player off the bounce outside of sophomore guard Armaan Franklin.
Galloway had developed physically well enough that he could defend and box out any position from 2-4, so Miller could bring him off the bench to address just about any problem area he had.
He cracked the rotation in Game 1 with 13 points in 19 minutes against Tennessee Tech and after that he played at least 20 minutes in each of the next 10 games. He's started seven games and even though he's seen a recent minute cut because of back trouble, he's still averaging the most minutes of anyone not currently in the starting lineup.
"When things aren't going well, he can huddle our team and do some things that don't stand out in the stat sheet," Miller said. "He's got those winning attributes. …He's very unselfish. He knows how to play. He's probably our best passer when it comes down to making assist-type of plays."
Scoring has been an issue as Galloway is averaging just 4.1 points per game in all of those minutes. He can finish when he gets to the rim, making 22 of his 37 attempts there, and he hasn't been bad from elsewhere inside the arc with three makes on five 2-point jump shots. However, he's 5 of 25 from beyond the 3-point arc and he went more than a month between makes after making two against Northwestern on Dec. 23. The next came in the Hoosiers' Feb. 7 win over Iowa.
"It's a lack of confidence," Mark said. "I know he made shots early in the preseason. I know he's knocking them down in practice. It's just not carrying over in the games. He's someone that could knock more down if he had more confidence in his shot. It's more between the ears with him right now. It's a mental thing."
Mark believes Trey has the capacity to be a captain for Indiana. But he has more to develop in his own game before he's ready and qualified to be that vocal. So a lot of his conversations with his son center on the parts of his game that aren't good enough yet.
"He's still learning for sure," Mark said. "He's got so far to go with learning how to play at that next level, at the college level, at the Big Ten level. The Big Ten is so good and there's such a fine line between winning and losing. He has some versatility, but he has to learn every time he's going on the floor he's going up against somebody who's just as athletic or more athletic, so how do you use your Basketball IQ to offset that?"
That's the sort of critique you get when you're a coach's son. They challenge because they love. Trey Galloway wouldn't want it any different.
You can follow Dustin Dopirak on Twitter HERE
---
Find us on Facebook:  thedailyhoosier
The Daily Hoosier –"Where Indiana fans assemble when they're not at Assembly"
Seven ways to support completely free IU coverage at no additional cost to you.