Myles Jackson is used to relocating and adapting.
While growing up in the southeast, Jackson and his family moved 11 times. Most of them came while he was in elementary and middle school — he spent all four high school years at Mill Creek High in Hoschton, Georgia. The family mostly migrated within Georgia, along with multiple moves to South Carolina.
That background shaped Jackson's identity. He had to build new relationships and friendships so often that doing so became second nature.
"It forced me to develop my own personality," Jackson said. "Just allowed me to find myself and figure out who I am at a very young age. Just figuring out my core values and beliefs. I feel like certain things that might break other people or be too much for other people, it actually helped me, shaped me, and molded me into who I am."
So when Jackson transferred from UCLA to Indiana in January, he had no trouble adjusting to a new environment. He's done that so many times throughout his life.
The linebacker redshirted his 2020 season with the Bruins after suffering a season-ending knee injury in his first collegiate game. He then appeared in seven games in 2021. But after two years on the opposite side of the country from his Georgia home, he wanted a change.
Jackson set out to transfer, and Indiana entered his radar. The Hoosiers didn't recruit him coming out of high school, but the staff liked what they saw when they looked into Jackson as a potential transfer. His ability on special teams caught IU's attention; he played on UCLA's punt return unit, and his prowess in that facet of the game convinced IU coaches he'd be a good fit at bull, which requires both pass-rush and coverage abilities.
Jackson also had a connection on IU's roster. He was teammates with Jaylin Williams' cousin, Rayshad, at UCLA.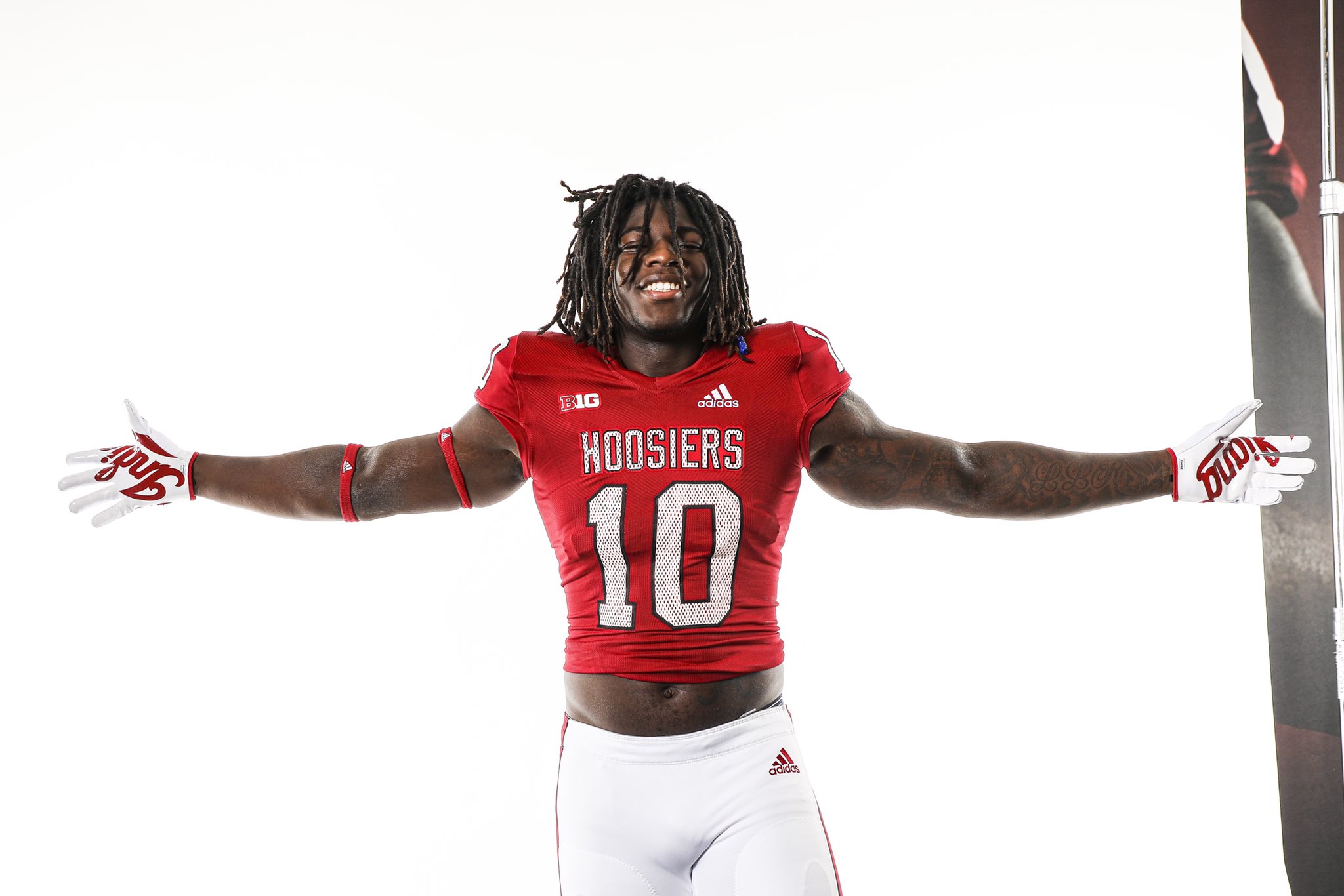 Williams and Jackson didn't know each other incredibly well, but were familiar with each other through Rayshad. When Jackson came to Bloomington for his official visit, Williams became one of the point people trying to close the deal. Williams sold him on IU's family atmosphere.
After that visit ended, Williams had a good feeling it would work out.
"I'm usually undefeated on those. (If) they're trying to get him here, I'm going to get them here for you," Williams said. "I love Myles. He's a great fit for our team."
Upon arriving in Bloomington in January, Jackson — ever adaptable — quickly clicked with his teammates. He came right in and became friends with the entire defensive line.
James Head Jr. could tell within the first couple days of meeting him that he'd be a good teammate. But Head didn't realize just how well they'd get along.
"He takes me home every day. We just chill, we go over the playbook, we stay after and watch film together," Head said. "That's one of my closest friends, already."
Jackson's versatility in life also translates to football. When Head suffered an injury ahead of IU's opener at Illinois, coaches moved Jackson to defensive end. With about a week until the game, he had to start learning how to play a new position.
The sophomore was willing to do whatever his coaches asked, but it was a challenge. He was practicing with confidence and energy at bull. And then, on short notice, he had to pick up a spot he hadn't played before.
Head said Jackson went about it the right way, by asking questions, taking notes, and working hard. But still, it slowed him down a bit. He was less confident at the new spot, and he didn't want to make mistakes.
He played defensive end against Illinois and Idaho, but recorded just one tackle between the two games. Coaches were excited about Jackson's potential entering the season, but they were still waiting to see that turn into production on game day.
Dealing with that, mentally, may have been even harder than learning the position. Jackson had some down moments going into the Western Kentucky game. So Cam Jones pulled him aside during the week and reassured him.
"I just told him, 'Just calm down, just go back to the basics. You've been doing this your whole life,'" Jones said. "He just kind of felt the pressure, and I was like, 'Just have fun with it, man. We're out here to have fun. We're out here with each other.'"
That message came at a time when Jackson needed to hear it. And he responded to it in a big way against the Hilltoppers. He came up with two takeaways, an interception and a fumble recovery — arguably the two biggest defensive plays of the game for Indiana.
His teammates and coaches were thrilled for him. But although Tom Allen called Jackson a pleasant surprise for how much of a fit he turned out to be, the team and staff weren't surprised that he came up with those big plays.
They've all seen Jackson's work ethic and energy in practice, from spring ball through fall camp. The Hoosiers like to say that "the ball finds energy." And Jackson's energy and effort are two of his defining characteristics as a player.
Myles Jackson says "I'll be taking THAT." 😤@_mylesjackson x @IndianaFootball pic.twitter.com/EEwDWdHWyZ

— Indiana On BTN (@IndianaOnBTN) September 17, 2022
"We talk about guys that embrace the culture of what we're trying to do, and he just he buys in every day," linebackers coach Kasey Teegardin said. "It doesn't matter if it's his first rep of practice or his 90th rep of practice. He's just playing at a million miles an hour. He's physical. He's always a positive. He just works his tail off."
Jackson is still battling for increased playing time. With Head healthy, Teegardin expects Jackson to play more at bull, where senior Lance Bryant starts. But Teegardin said they'll continue giving Jackson practice reps at defensive end, because it can't hurt to have another option.
With the way IU rotates Dasan McCullough between positions, while also not wanting to overwhelm him, flexibility is an asset on this defense. Jackson's ability to move around to different positions will only help him see the field more.
And, in a way, that's fitting. He's been moving around his entire life.
---
The Daily Hoosier –"Where Indiana fans assemble when they're not at Assembly"