The power of social media was moving faster than Indiana's sideline.
In his first ever college football game, IU freshman running back David Holloman didn't expect to play much, and he certainly didn't anticipate becoming the center of attention, much less part of a national news story before kickoff.
But Iowa's Kinnick Stadium is known for how close the fans sit to the opposing sideline, and the Hawkeye fans already knew something Holloman didn't.
"I started hearing people on the sideline from Iowa chanting my name and number, and I was confused," he said on Monday following a fall camp practice in Bloomington.
Indiana would get its promising 2021 season off to an inauspicious start on the field moments later, falling behind to Iowa 14-0 before they knew what hit them.  But if you believe in bad omens, things were already trending in the wrong direction before anything transpired between the lines.
You almost certainly know the story by now.  When Holloman ran out of the visitor's tunnel pre-game with his teammates, an IU photographer just happened to snap a shot of him front and center.
Without that photo, Holloman probably would have made it through the entire game with "Indinia" on the front of his jersey.  But the image was shared on the IU Athletics Twitter pages before anyone recognized the mistake, and things quickly went viral.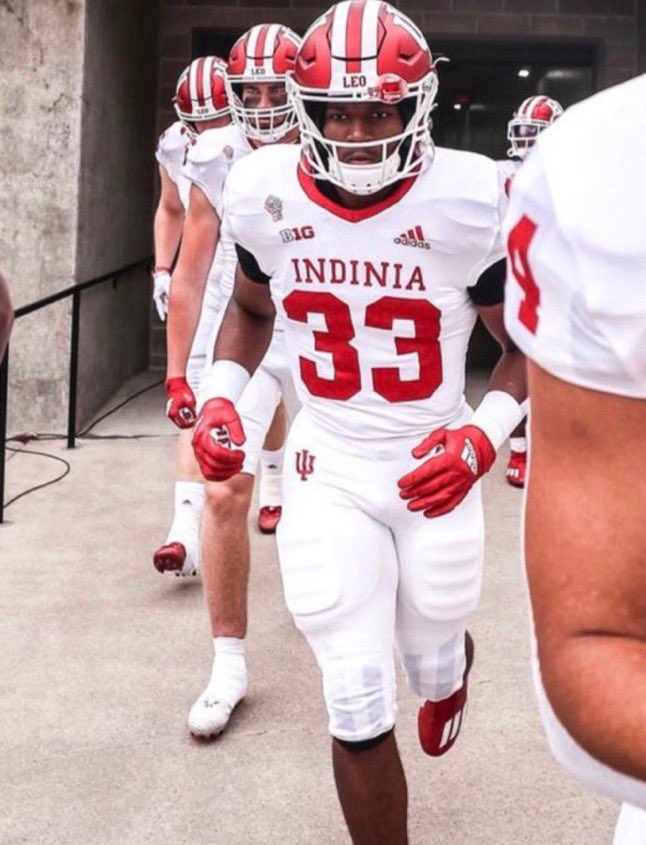 Although he had heard the Iowa fans, Holloman still wasn't sure what was going on as the game started.  By halftime, the image of him running out of the tunnel had traveled the country, and "Indinia" was trending on Twitter.
As embarrassing as the jersey gaffe was for IU, things were worse on the field.  Indiana was trailing 31-3 when they ran back into the locker rooms, and the Hoosiers never really posed a threat in the second half.  But they did get one thing corrected during the break.
Holloman was still unaware that the college football world was fixated on the letters just inches below his chin.  But IU had finally figured it out and they got to him.
"When we were going into the tunnel the equipment manager was like 'hey man we've got to switch your jersey' and I just had no clue.  I was just like 'okay, I'm going to switch my jersey.'
Even after seeing the infamous jersey for himself, Holloman still didn't realize he had become part of a viral story.
"I looked down at it and saw that it was misspelled, but I didn't know that it publicly got out on like the news and stuff like that."
Through no fault of Holloman's, "Indinia" will live on infamy.  How did it happen?  Holloman said he never learned the back story.  He was a good sport answering a few questions on Monday about the strange incident.
Fortunately for Holloman it was a moment now remembered mostly for the strange spelling of his school's name rather than anything to do with the running back from Auburn Hills, Mich.
Iowa week had started out much differently for the 6-foot, 209 pound back from Avondale H.S.  He was the offensive scout player of the week for the Hoosiers after arriving on campus with a reputation for blazing speed.
In the end he redshirted the 2021 season, an outcome that was largely expected going in.  He rushed 11 times for 34 yards and returned three kickoffs for 66 yards while playing in four games.
Now Holloman finds himself in the middle of an interesting competition for the starting running back position, along with at least three others in a room full of fresh faces.  He's also competing for the primary kickoff return duties.
11 months away from the strange start to his career, Holloman is focused on seeing the field this year as a regular with a full season, a spring and two fall camps under his belt.  He said a year ago he had much to learn, especially when it came to pass protection.
But working under long-time NFL coach Craig Johnson in the running backs room, Holloman believes he is ready to make a greater impact in 2022.
"I'm learning so much information from a wise coach (Johnson), and I'm just very thankful that he's here," Holloman said.
Even a veteran like Johnson probably never would have thought to tell Holloman to check the spelling on his jersey pre-game.
Who would?
But that will likely now become an unavoidable, almost instinctual part of his pre-game routine.
---
The Daily Hoosier –"Where Indiana fans assemble when they're not at Assembly"