Periodically over the summer we will check in with a quick look at former Hoosier basketball players to find out what they are up to now.  Today we look at Nick Zeisloft, who played for IU from 2014 to 2016 as a graduate transfer from Illinois State.
Not many people knew what Indiana was getting when they signed a graduate transfer from Illinois State that averaged 7 points a game.  Former Hoosier head coach Tom Crean earned a bit a of reputation for finding diamonds in the rough, and few epitomized that better than Nick Zeisloft.
What Crean found was a lights out perimeter shooter — a skill that Zeisloft capitalized on at Indiana, and something that is still paying big dividends today.
At IU he averaged 6.6 points per game as a junior and 6.5 points per game as a senior as a key contributor coming off the bench.  The headline was always his 3-point shot, and at times his range seemed to have no limits.
For his career at IU Zeisloft shot 43.2 percent from long distance in 66 games. As a junior, he led the Big Ten in three-point shooting in conference games at 51.4 percent.  Perhaps no video better illustrates the impact that Zeisloft could have on games than this memorable sequence at Minnesota in 2016 — a big road win that helped spur on the Hoosiers to a Big Ten title.
After the 2016 season Zeisloft earned a training camp invite to the Indiana Pacers that included a partially guaranteed contract.  He appeared in one preseason game and then ultimately landed with the Fort Wayne Mad Ants of the G-League for the 2016-17 season.  There he averaged 14 minutes and 7.4 points per game while shooting 39% from long range.
The 2017-18 season brought on more change as Zeisloft headed overseas to play in Lithuania.
While Lithuanian basketball news doesn't always make it back to the US, many IU fans saw this headline a few months ago, and no, these aren't typos.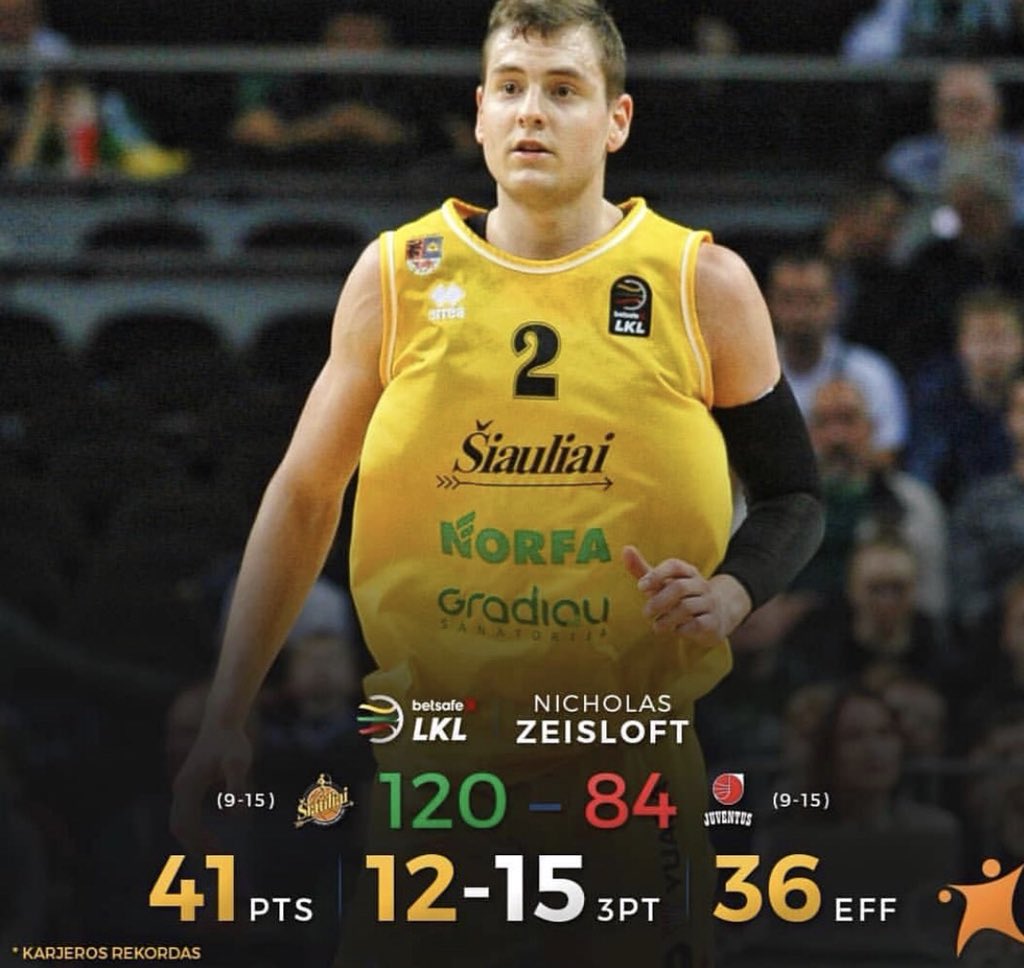 For comparison purposes, the NBA record for three-pointers in a game is 13 by Stephen Curry.  There have only been four instances of 12 or more three-pointers by one person in a game in the history of the NBA.  The IU record is nine, held by Robert Johnson, Matt Roth and Rod Wilmont.
For the season, playing for BC Siauliai in the Lithuanian League, Zeisloft appeared in 32 games and averaged 24.7 minutes per contest.  He averaged 12.1 points, 2.1 rebounds and 1.4 assists per game.  He got up an amazing 213 three-point shots in those 32 games, hitting 37.6 percent.
He also played in the Baltic League for 11 games and averaged 12.3 points while shooting 43.8% from three-point range.
Zeisloft also participated in the Lithuanian League's 3-point shooting contest.
IN HIS OWN WORDS
We asked Nick about his impressions of how his professional career was progressing.  This is what he had to say about year one overseas:
"My first year playing professionally overseas was fantastic. I feel like I grew immensely as a player and learned a lot of more ways to score and be efficient as a shooter. I loved adjusting to the European style of play but it did take some getting used to. Excited to improve this summer and enjoy time at home before I start my year #3 as a pro."
YOU CAN SHOOT LIKE NICK ZEISLOFT
Okay, no, you probably can't, but he can help your kids get better.  Zeisloft is back in the States this summer and is holding a shooting camp starting June 18 in La Grange, Illinois.  You can learn more about the camp and sign up via this link.
I am looking forward to coming home to host my first shooting camp in my hometown of La Grange, Illinois! @CoachCSpartz and I have put together a fundamental shooting clinic for 1st-8th graders! Click the link in my bio to register! pic.twitter.com/bIc5muQYs4

— Nick Zeisloft (@n_zeis2) May 17, 2018
---
You can follow us on Twitter:  @daily_hoosier
Find us on Facebook:  thedailyhoosier
Supporting FREE coverage of IU Athletics operated by an Indiana based small business has never been easier.  Just do your shopping via this link to the Amazon home page or via the Amazon ad below.  Anything you purchase via these links (not just what is pictured in the ad) supports locally-owned and free coverage of all things IU.