There is no way around it — this could be a big moment in the history of the Indiana University football program.
Or it could just be a continuation of the same story that has been playing out in Bloomington for decades.  As we saw after an IU win over Michigan State in 2016, one game does not necessarily change the course of history.
But since day one, breaking through has been the motto under Tom Allen.  If it is ever truly going to happen at Indiana, it is going to start with a game just like Saturday night against one of the top dogs in the Big Ten.
(#24) MICHIGAN STATE (1-1) at INDIANA (3-0)
Kickoff:  7:30 PM Eastern Time
Location:  Memorial Stadium, Bloomington, Indiana
Television:  BTN
Series:  MSU leads the all-time series 46-16-2.  The Spartans won the last meeting 17-9 in 2017 in East Lansing.  IU won the last meeting in Bloomington in 2016, 24-21 in overtime.
Odds:  Michigan State is a 5 point favorite.
Weather at kickoff:  63 degrees, winds at 5 mph, 5% chance of rain, (sunset at 7:43 PM)
Michigan State head coach Mark Dantonio is 101-46 (.687) in his 12th season as the Michigan State head coach.  He previously served as Cincinnati's head coach from 2004-06 and has an overall record of 119-63 (.654).
The Spartans are off to a disappointing start, taking a close one at home against Utah State, and losing on the road at Arizona State.
TALE OF THE TAPE

WHEN MICHIGAN STATE HAS THE BALL
Junior Spartan quarterback Brian Lewerke is on pace for a big season.  In his second season as the starter, the Phoenix native is averaging more than 300 yards a game and completing 69.4% of his passes.
Lewerke has three big and athletic receivers that are sure to test IU's top ten ranked pass defense.  Cody White, Felton Davis and Darrell Stewart are all 6-foot-2 or taller, and they all have at least 8 catches and more than 100 yards through two games.
Spartan running back LJ Scott has struggled out of the gate — and compounded things with a hamstring issue two weeks ago.  Its unclear whether he will be at full strength but Scott is expected to play.  Running behind a veteran offensive line, Scott came into the year as a preseason all-Big Ten selection.  He has averaged only 3.4 yards per carry.  Backup Connor Heyward has 10 carries for 64 yards.
Indiana has been below average against the run, allowing more than 5 yards per carry.  If the Hoosiers want to hold the Spartans in check, they'll need to be able to stop the run and turn MSU into a one dimensional passing team.  That should play into the strength of the IU defense.
Even that might not be enough for the Hoosiers unless they can also get pressure on Lewerke.  IU only has five sacks on the season, and this will be the best offensive line they have faced thus far.
Tom Allen has earned a reputation as a strong defensive coach, and he'll need his best game plan yet in this one.  If Lewerke has all day to find his big receivers, it could be a long day.  If IU can get him on the run, they might be able to create a game-changing takeaway or two.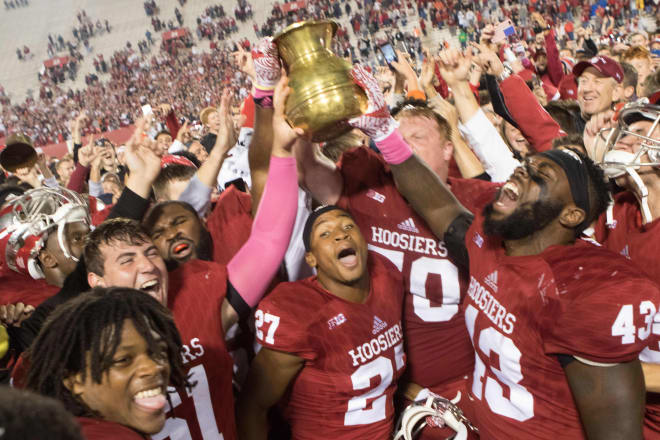 WHEN INDIANA HAS THE BALL
Michigan State had a top 10 defense in 2017 and returned nine starters.  They are better than what they have shown through two games.
The weakness of the Spartans' defense thus far has been stopping a short-efficient passing attack.  There aren't many teams in the country that can boast a better one of those than Indiana.  Mark Dantonio is too smart to allow his defense to get picked apart, right?
Look for the Spartans to be bunched up at the line of scrimmage, forcing IU to wait for receivers to get separation, and putting the burden on Ramsey to make throws over the top.  With Nick Westbrook, Donavan Hale, Whop Philyor and others, the Hoosiers have the weapons and just might be better overall than the MSU secondary, especially with Spartan corner Josiah Scott out with an injury.
It is a different story with the running game.  No one has the run the ball against MSU yet, as their No. 1 ranked rushing defense can attest.  This isn't a fluke.  The Spartans were No. 1 in the Big Ten last year against the run.  It is a hallmark of the Mark Dantonio era.
The 29th ranked IU rushing attack is no pushover, but this will be their biggest test yet.  This feels like a game where the Hoosiers will favor the pass, and use the running game more selectively when opportunities present themselves.
There was frustration last year with offensive coordinator Mike DeBord when it felt like he was calling to many predictable running plays.  Thus far IU has been able to sustain long drives and convert third downs.  The competition is ramping up significantly, however, and that calls for a bit more innovative look and feel to the offense.
THE OUTLOOK
Michigan State is coming off a bye week.  Mark Dantonio is a great coach and he's had two weeks to work out the kinks and get his team focused.  The Spartans will be looking to come out fast and knock Indiana out early.
Falling behind might be just what the Hoosiers are looking for.  They've fallen behind in all three games early and quickly rallied in each.  But this is by far the best team they've faced thus far.
For us this is going to come down to what happens when Indiana has the ball.  Michigan State is going to score points.  The question will be whether the IU offense can continue to do what has gotten them to 3-0 — sustain long drives and finish them off with points.  Not only will that allow the Hoosiers to keep pace on the scoreboard, but it will give their young defense rest and a chance to make adjustments.
Of course you cannot lose sight of a score by a defense or special teams.  IU has had one in two of their three wins, and if they can get one on Saturday night, that just might put them over the top.
PREDICTION
It's never fun to pick against IU.  That it is even a tough call means that the Hoosiers have exceeded expectations thus far in 2018.  We could see either team winning by a touchdown or less.  The only real surprise here would be a blowout.
Here's to hoping we are wrong.
Michigan State  31
Indiana  24
---
You can follow us on Twitter:  @daily_hoosier