Relatively speaking, it isn't all that often that a true freshman sees the field for significant playing time at the highest levels of college football.  Of course it happens, but for an 18 year old kid just out of high school to compete with mostly 20 to 22 year old men, the talent level has to be pretty high.
Perhaps it is in part out of necessity that no less than 12 true freshmen have become regulars through the first three weeks of Indiana's 2018 season.
IU is the 19th youngest team in the country and the fourth youngest in the Big Ten. Seventy-seven of the 116
(66.4 percent) Hoosiers are underclassmen.  That figure includes 55 freshmen (including 31 true freshmen) and 22 sophomores.
But there is more than just a youth movement going on here.
Of course another contributing factor is the new redshirt rule which allows a player to participate in four games before they use a year of eligibility.  That replaces the old rule whereby a year of eligibility was lost the moment a kid stepped on the field.
This really isn't about the redshirt rule either.  The bottom line here is that Indiana appears to have hit it out of the park with its 2018 recruiting class.  On paper, it was one of IU's best ever since people have been closely monitoring such things.  But this 2018 class, which is the first that Tom Allen had a chance to fully orchestrate, is exceeding expectations.
Michigan State knows all about this story.  And their experience is going to present a stern test for the Hoosiers.
After featuring one of the youngest teams in the nation last season, Michigan State returns a total of 19 position starters in 2018.  Out of a combined 286 possible starting positions in 2017 on offense and defense throughout the course of 13 games, the Spartans are returning 239 of those starts (84 percent). The 19 position starters returning on offense and defense are tied for the most in the FBS, and the 22 overall starters (including specialists) are also tied for first.
Will Indiana dial back the number of freshmen on the field against an experienced team like MSU?  Maybe.  But the reality is that most of these guys are key contributors to this point.  Head coach Tom Allen addressed the topic on Monday.
"I'd say probably eight of them are probably going to just keep on playing,'' Allen said. "If a guy has played three (games to date), more than likely if we've played him that much at this point, he's probably going to continue to play. The guys that played maybe one or two at this point, we're continuing to look at.

"But now that you get into conference play, you say who is really going to be the guys you want to invest in for a whole season worth of their experience.''
Below we take a quick look at the "true twelve" group of freshmen that have seen the field thus far for IU.
Matt Bjorson #89 (Tight End)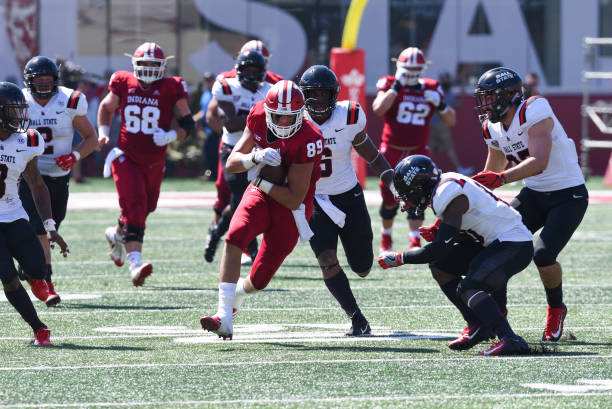 Bjorson, out of Hinsdale, Illinois, has played in all three games and has four catches for 50 yards.
James Head Jr. #6 (Defensive Line)
Head, out of Miami, Florida, has played in the last two games and he recorded his first two career tackles against Ball State, including a tackle for a loss.
Jamar Johnson #16 (Safety)
Johnson, out of Sarasota, Florida, has played in all three games thus far.
Cam Jones #34 (Husky)
Jones, from Memphis, spells Marcelino Ball at the Husky position.  He has played in all three games and has four tackles including one solo.
Shamar Jones #96 (Defensive Line)
Jones, from Johnstown, Pennsylvania, saw his first career action on Saturday against Ball State.
Devon Matthews #27 (Safety)
You had better be pretty special if you want to bring your nickname "Monster" with you to college as a true freshman.  Matthews has pulled it off and even has Tom Allen calling him that.  The Jacksonville, Florida native has played in all three games.  He recovered a fumble in week one and has recorded three tackles in each of the last two games.  He appears on track to not redshirt.
Micah McFadden #47 (Linebacker)
McFadden has been another big contributor and another Florida product that appears destined to not redshirt.  He has played in all three games and has recorded a forced fumble, six tackles (all solo), a tackle for a loss, and a quarterback hit.
Michael Penix Jr. #9 (Quarterback)
Penix requires little introduction at this point.  He played against FIU and Ball State, and has gone 9 for 12 passing the ball for 125 yards and a touchdown.  He has added 21 rushing yards.  Penix, a Tampa native, will be interesting to watch as it relates to the redshirt rule, as a valuable extra season could be saved if he doesn't play more than four games.
Stevie Scott #21 (Running Back)
Stevie Scott is eighth in the FBS in rushing yards.  Need we say more?  We have.  You can read his interesting path to early stardom here.  There is no way Scott redshirts barring injury.
Reese Taylor #2 (Athlete)
Taylor has been Mr. Everything thus far for Indiana.  A high school quarterback (Indiana Mr. Football) converted to defensive back, converted back to quarterback who has played wide receiver, running back and kick returner.
He has 42 rushing yards, 37 receiving yards and 66 kick return yards.  And oh yeah — 2 tackles.  Taylor will not be redshirting either barring injury.
Ronnie Walker Jr. #23 (Running Back)
All Walker did on his first play from scrimmage for his college career was dart into the end zone from 18 yards out against Ball State.  The highly regarded recruit out of Virginia showed off speed, power and nifty footwork on that play.  He finished the game with 41 yards on nine carries and figures to see a bigger role going forward.
Jaylin Williams #23 (Cornerback)
Williams has played in all three games thus far and has put up big numbers.  The Tennessee native and another highly coveted recruit has seven tackles including six solos to go with a pass breakup.
Note:  12 additional redshirt freshmen have played thus far during the 2018 season.
---
You can follow us on Twitter:  @daily_hoosier