The Daily Hoosier is live at Memorial Stadium for the final game of the 2022 season.
Join us for updates throughout the day, and participate in the discussion thread below.
The game will be televised on BTN and kicks off at 3:30 p.m. Eastern.
Refresh the page for updates before, during, and after the game and stay tuned for post-game coverage.
PURDUE (7-4, 5-3) at INDIANA (4-7, 2-6)
Kickoff:  3:30 p.m. Eastern, Saturday
Location:  Bloomington, Ind., Memorial Stadium (52,656; field turf)
Television: Big Ten Network — Cory Provus (pbp), Matt Millen (analyst), Elise Menaker (sideline)
Stream:  Fox Sports
Radio:  IU Football radio network
Odds:  Purdue is a 10.5-point favorite
Weather at kickoff:  58 degrees, mostly cloudy, wind 6 mph, 0% chance of precipitation.
---
FINAL STATS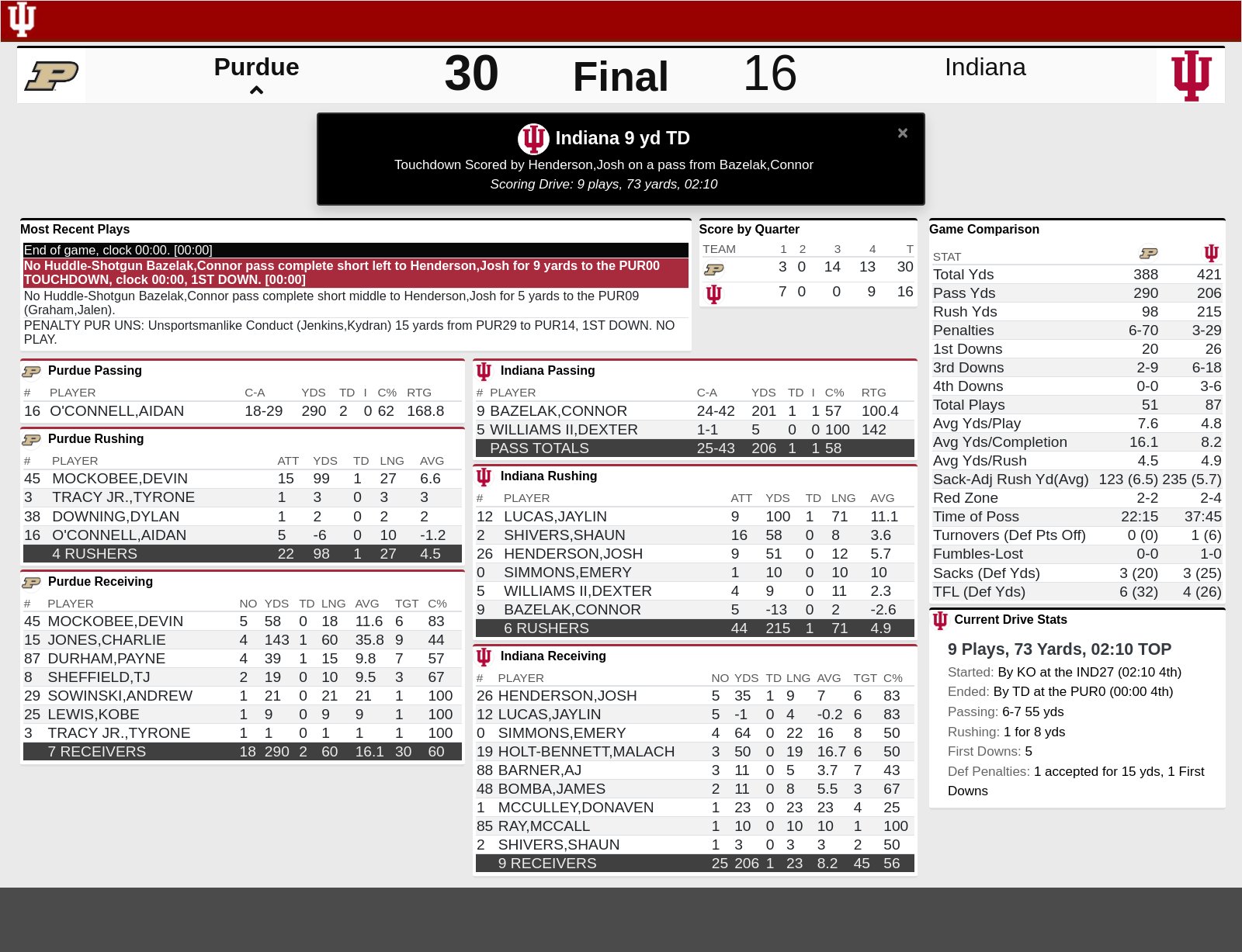 FOURTH QUARTER
TOUCHDOWN INDIANA:  Indiana goes 9-plays , 73 yards.  Josh Henderson catches a 9-yard pass on the last play of the game.  30-16, FINAL.
TOUCHDOWN PURDUE:  Cory Trice 8-yard interception return.  30-10 Purdue, 2:10 left.
TOUCHDOWN PURDUE: 60-yard TD pass, O'Connell to Jones.  3-play, 75 yard drive.  24-10 Purdue, 9:38 remaining.
FIELD GOAL INDIANA:  Charles Campbell good from 28 yards.  10-play, 73 yard drive for Indiana.  17-10 Purdue leads.  11:06 remaining.
THIRD QUARTER
End of the third.  Purdue about to punt from their own 30.
Blocked field goal.  Charles Campbell's attempt 35 yards is blocked.  Still 17-7 Purdue, 2:03 left.
TOUCHDOWN PURDUE:  Boilers go 9-plays, 82 yards on their second drive of the to take a 17-7 lead.  Devin Mockobee the 27 yard run.  6:06 left in the third.
TOUCHDOWN PURDUE:  Boilers go 8-plays, 82 yards on their first drive of the half to take a 10-7 lead.  O'Connell to Durham for the 15-yard passing score.  10:35 left in the third.
Indiana goes 3-and-out to open the second half.
HALFTIME STATS
Tom Allen was pumped headed into the half. 👏@CoachAllenIU x @IndianaFootball pic.twitter.com/pWGUR93QOI

— Big Ten Network (@BigTenNetwork) November 26, 2022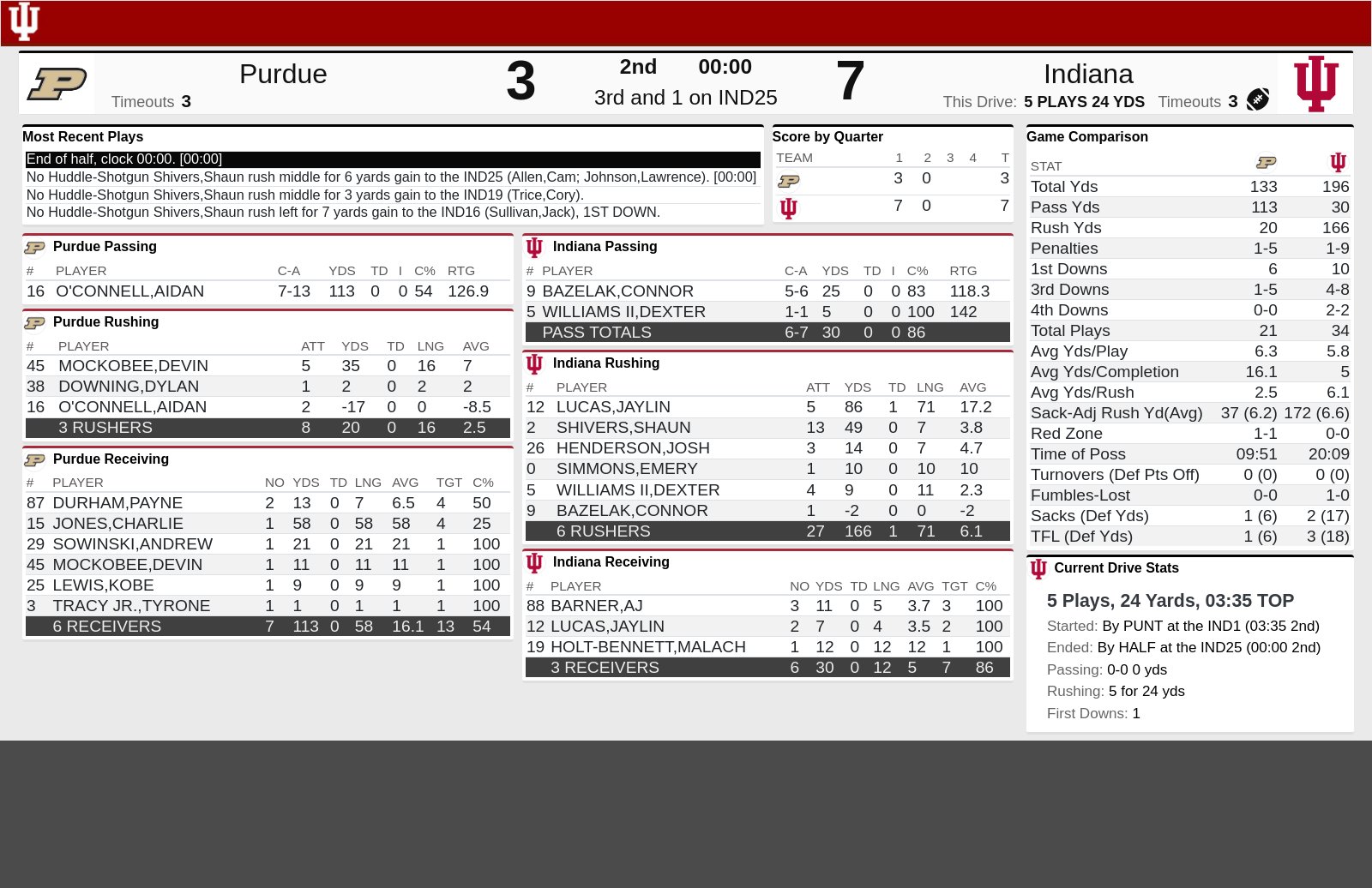 SECOND QUARTER
Indiana runs out the first half clock after taking over at their own 1-yard line.  7-3, halftime.
After Purdue completes a 58-yard pass play down to the IU 34, the Hoosiers defense forces a punt.
With 4:57 remaining in the half, it's 1st and 10 Purdue at their own 5-yard line.  Still 7-3, Indiana.
Charles Campbell is no go from 44 yards.  Still 7-3 Indiana, 14:50 left in the half.
FIRST QUARTER
Indiana quarterback Dexter Williams II down on the field with what appears to be a serious leg injury.  Connor Bazelak warming up.  2nd and 16 Indiana at the Purdue 30.  :46 seconds remaining.  7-3 Hoosiers.
TOUCHDOWN INDIANA:  Jaylin Lucas 71-yard TD run on the QB option pitch.  2-plays, 74 yards.  7-0 Indiana, 11:02 remaining.
Here's a playmaker to watch: @jaylinlucas1. 💥

The @IndianaFootball freshman can flat-out fly. pic.twitter.com/3P1sbK3VC6

— Big Ten Network (@BigTenNetwork) November 26, 2022
FIELD GOAL PURDUE:  Purdue field goal makes it 3-0 with 11:49 left.  8-play, 57-yard drive.
Indiana wins the toss and defers.
—————–
PREGAME NOTES:
The Hoosiers continue to be very thin at linebacker.
Linebacker Cam Jones will miss his final game with Indiana.
Matt Hohlt is not in uniform either at linebacker.
Aaron Casey is also out at linebacker.
Linebacker Bradley Jennings, Jr. is dressed, however.
Dexter Williams is taking first team QB snaps, as expected.
SENIOR DAY:
Here's the official list from IU of the players who went through senior day.  Some, including Tiawan Mullen, still have an extra year of eligibility remaining.