With a father that has been a head basketball coach since the day he was born, Trey Galloway has a different appreciation for the game than most 18 year old high school seniors.
The osmosis of being in the gym his entire life, first watching his dad coach and then playing for him has created a player with all of the intangibles that can be difficult for college coaches to develop.
What does Galloway think he can bring to Archie Miller and Indiana next year?
"Having that fire, wanting to win every possession, and also being ultra-competitive," Galloway told The Daily Hoosier.
Galloway's story is not unlike Miller's, who is the son of legendary Pittsburgh area high school coach John Miller.
Miller was known as a fiery competitor when he played guard for North Carolina State from 1998 to 2002, and he no doubt was attracted to those same qualities in Galloway.
"Ultimate competitor," Miller said said of Galloway back in November.  "He's that guy you want to be in an alley with when something goes down. He's ready to go at all times. I think he brings a big, physical guard to the table that's ready to play, compete in the Big Ten early in his career. And he's a winner."
Galloway's competitive spirit comes through even in short conversations with the 6-foot-4 combo guard.
Is his Culver Academies team being overlooked for another state title run?  Is he being overlooked for Indiana Mr. Basketball?
"I actually kind of like it," Galloway said.  "I kind of like being the underdog and having them overlook us."
The competitor in Galloway is already paying dividends for Indiana.  He spent last spring and summer playing AAU basketball on the Adidas Circuit with good friend and fellow IU signee Anthony Leal, along with a talented young point guard playing a year up out of Evansville named Khristian Lander.
Of course Lander just announced this week that he will play for IU, and Galloway and Leal were working behind the scenes to make sure that happened.
"We were after him pretty hard," Galloway said of their efforts to have Lander rejoin them at Indiana.
As a student of the game, Galloway wouldn't be likely to push real hard for a future teammate unless he saw how a player's talents translate to winning.  When it comes to Lander, that part was fairly obvious.
"His speed and ability to make plays.  He can get from one end of the court to the other real fast.  His ability to finish at the rim and get past people is incredible," Galloway said of Lander's greatest strengths on the basketball court.
Competitors don't back down from challenges, and Galloway has seen his share of them during his senior season at Culver.
With roster turnover at the point guard position, Galloway has been asked to handle the primary ball handling duties this year for the Eagles.
Of course that is a request that he fully embraced.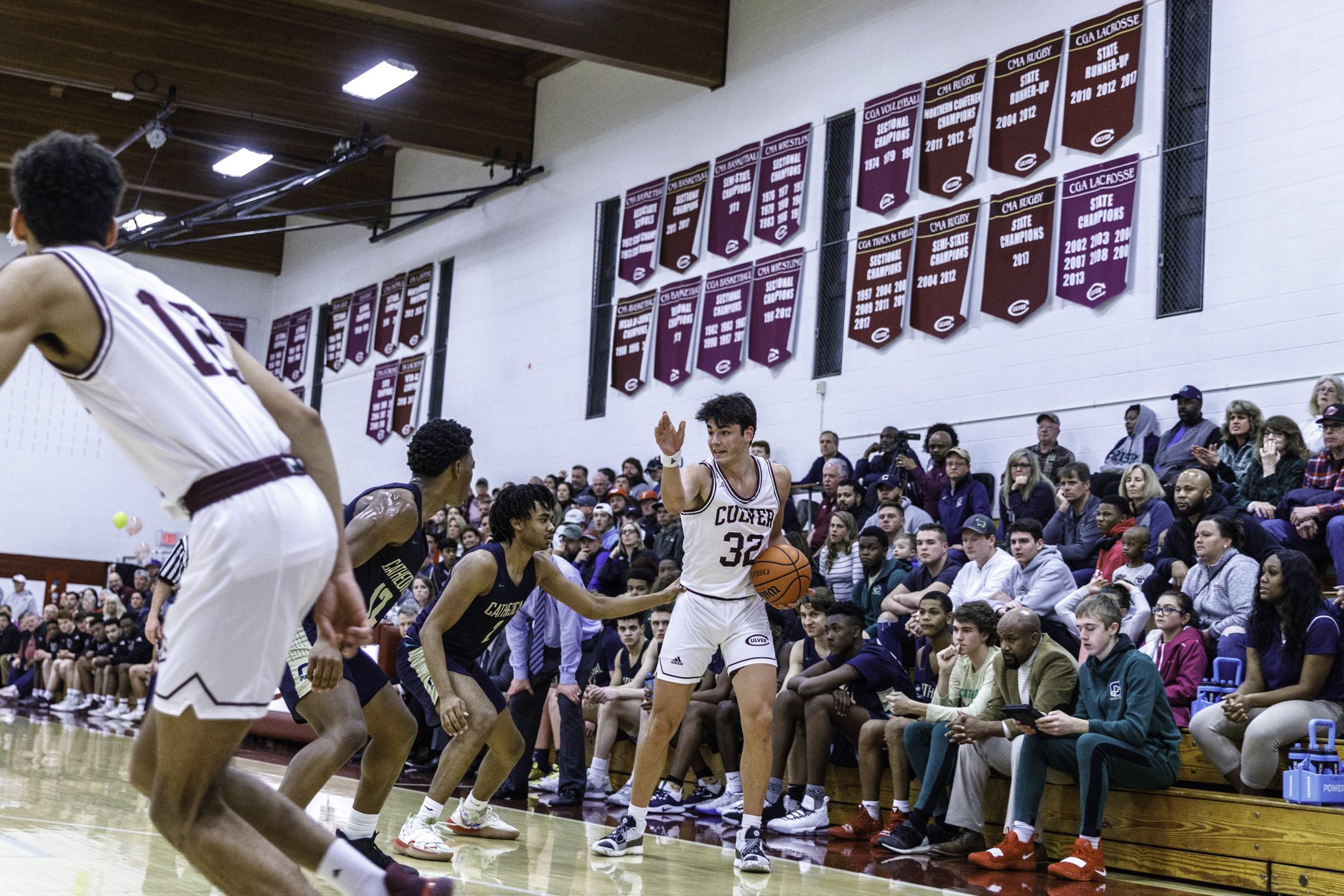 "I've enjoyed being the floor general, taking control over the game and being the leader of my group," Galloway told The Daily Hoosier.  "It's been fun to get both situations because last year I was more off the ball because I was more of a three or two last year.  Seeing both positions has been really helpful for me as a player."
While Galloway wasn't necessarily recruited to play point guard at IU, Miller knows that he will have another player on the floor that can be trusted to handle the basketball.
"They definitely think I can have the ball in my hands a lot," Galloway said.
Part of handling the basketball, especially when you are the center of the attention of opposing defenses is to be able to hold up to the physicality of the game.
Galloway has an attacking mindset with the ball, and constantly probes for opportunities to get to the rim.  That's why he focused heavily on getting stronger in the offseason.
"Being able to take contact and go through contact.  That's something that I really focused on this offseason was getting stronger," Galloway said.
All of his progress came to an abrupt halt in December when Galloway injured his shooting hand wrist.
While the injury was unfortunate, the story is good.  Galloway hit his head on the backboard while going up for an alley-oop.  Knocked off balance, he fell hand first to the floor.
"It was one of those things that was kind of cool in the moment, and then after it sucks because I knew it was bad," Galloway said.
Culver is now 16-4 on the season, and the losses were the games that Galloway missed due to the injury and his first game back against Indianapolis powerhouse Lawrence Central.
At 22.1 points, 5.6 rebounds, 4.9 assists and 2.3 steals per contest, Galloway does a little bit of everything for the Eagles, and without him Culver struggled.
It was the second year in a row that Galloway injured his right wrist, and that has impacted his touch shooting the basketball.  While he converts at greater than 50 percent from the field overall, Galloway has made just 24 percent from beyond the arc this season.  He made 27 percent of his attempts from long range as a junior after making 36 and 38 percent as a sophomore and freshman, respectively.
No longer dealing with pain or a cast, Galloway believes he can finally regain his shooting touch.
"I think I'm starting to find my rhythm now with my shot after my wrist injury," Galloway said.  "My confidence has gone up and the pain has gone away.  It's going to be really nice just to play pain free."
Galloway's improved physicality and strength has allowed him to take games over at times by attacking the rim.  Never was that more on display than during a game in Indianapolis a few weeks ago against a top-five ranked Attucks squad.
With his team down by as many as 16 points, Galloway poured in 35 points including 16 in a critical third quarter where Culver got back in the game and eventually won.
But when I asked him about what went through his mind with his team down big I was quickly reminded that Galloway is different.  He's a coaches son.  And a competitor.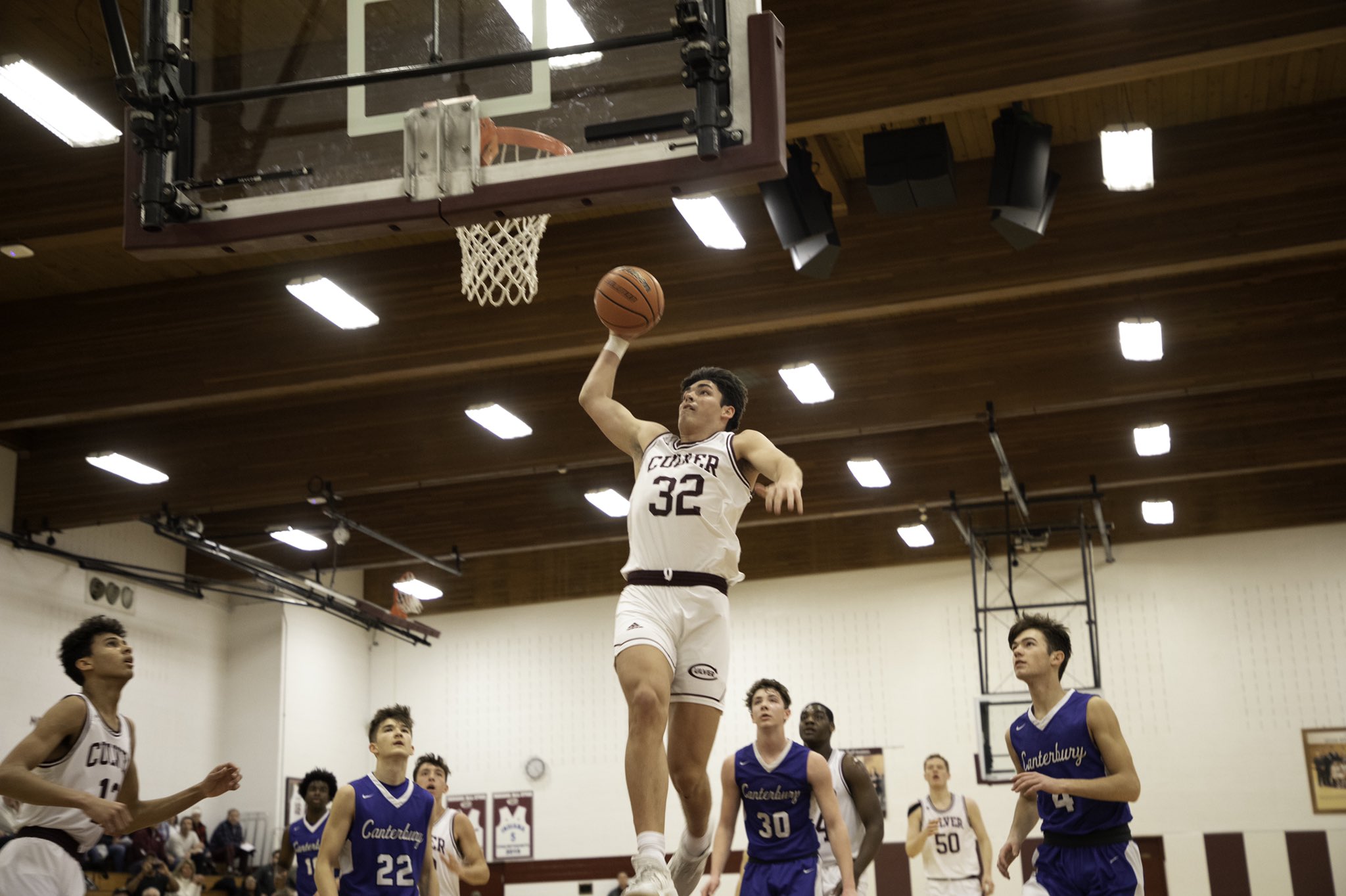 "I was just trying to will my guys just to stick with me and keep battling,"  Galloway said.  "I think the main thing was just getting stops on defense because that was the main thing that we were struggling with.  Once we got fired up and really started guarding that's when we started to make that run."
Not what you'd expect to hear from a star high school athlete looking back on a 35-point performance and on his way to high major college basketball.
And when he gets to IU, Galloway won't arrive with the same mindset as most freshmen.
What can he bring to Miller and the Hoosiers next season?
"Just coming in prepared because it isn't going to be easy as a freshman and sticking to the basics of what I've done to get myself in this position," Galloway said.  "Just doing what I do best, just coming in and competing."
Galloway reminded me repeatedly that he isn't looking ahead yet.  He has serious business ahead.  Family business.
Mr. Basketball?
"I'm really not thinking about that at all," Galloway said.  "Whatever happens will happen.  I'm just focused on my team right now and trying to get back to the state championship."
Playing for a private school, the odds are likely stacked against Galloway when it comes to winning the honor of being voted the state's best basketball player.
There is no vote for the state championship to stop Galloway, but there is a greater challenge.  After winning the state title in 2018 and reaching the final game in 2019, Culver has moved up to Class 4A this year.  If Culver is going to reach the final for a third straight season, they will have to do it against the state's biggest and best schools.
Making a state finals run is even more personal this year because it will also be Galloway's last run with his dad as his head coach.
"Just knowing that this is the last time playing in a Culver uniform and playing for my dad, playing with five other seniors," Galloway said. "It's going to be a super fun experience, and I think we have that experience of playing in big time games so I think we'll be ready."
First up will be a major challenge as Culver faces an IU recruiting target and a familiar foe in junior guard Blake Wesley and South Bend Riley.
"Really talented player, kind of erupted the first time we played them in the first half," Galloway said of the 6-foot-5 Wesley.  "He's a really good scorer and can do a bunch of different things on and off the dribble."
Wesley had 34 points in the first meeting, and when I asked Galloway if he would be tasked with the assignment in the rematch the competitor in him came out, perhaps involuntarily.
"Oh yeah," he quickly responded.
Wesley is going to end up on the same high major stage as Galloway.  He's that good, and there are no guarantees that Wesley won't have another big game when Riley and Culver square off on Tuesday night.
But will Galloway be prepared, compete, and fight to win every possession?
By now you know that answer.
---
See also — Checking in on more 2020 signees: Jordan Geronimo | Anthony Leal | Galloway highlights vs. Attucks
---
You can follow us on Twitter:  @daily_hoosier
Find us on Facebook:  thedailyhoosier
The Daily Hoosier –"Where Indiana fans assemble when they're not at Assembly"
Seven ways to support completely free IU coverage at no additional cost to you.