Maybe they were still waking up?
After a rare morning tip, Indiana looked lethargic early in Indianapolis on Saturday at the tenth edition of the Crossroads Classic.
Perhaps IU enjoyed a halftime cup of coffee?  Something jolted the Hoosiers coming out of the locker rooms.  Indiana imposed their will on the defensive end and wore down Butler at Bankers Life Fieldhouse.
IU now holds the best record in the Crossroads Classic at 7-3 and have won 6-of-7 and four in a row in the four-team event.
The Hoosiers (5-2) will begin Big Ten play next week.  Indiana hosts Northwestern at 8:30 p.m. ET on Wednesday.
OVERALL (B+)
As is often the case when teams find another gear mid-game, grading this complete effort is a challenge.
But Indiana's ability to respond to a slow start and put their foot on the gas takes precedence here.
Things didn't look good as the first half wore on.
At one point Butler led 37-28 and the Hoosiers appeared to be getting out-worked, and on their heels a little bit.
IU head coach Archie Miller was forced to call a timeout at that point.  He saw more toughness from Butler early on.
"I thought they brought it a lot more regularly inside," Miller said after the game.  "They were a much tougher team than us in the first half. We just had to really come together at halftime."
What they found wasn't drawn up on the white board.
"Not a whole lot of X's and O's but it's one of those things where you have to find a way to dig yourself out of it," Miller said.
It started on the defensive end.
IU went on a 38-14 run that spanned 18 minutes after falling behind by 9 late in the first half.  Butler only managed to score 6 points nearly 12 minutes into the second half.
"I thought we challenged ourselves and I thought our guys really were disappointed in the way that we played, and I thought in the second half we came out with a much better approach," Miller said.  "Our attitude was much different.
"I think our team kind of knows we're hanging our hat right now on being able to finish games, finish plays, make more hard plays in the game, be a scrappier, tougher team
OFFENSE (B)
Indiana was getting nothing in transition before the break.
The Hoosiers had zero fast break points at halftime, but a prolific shooting effort by Armaan Franklin kept IU from getting buried.
Miller was pleased with the ball movement that led to the open looks for Franklin and others.
"Our guards did a good job," Miller said.  "I thought the assist totals in the game, to have 19 assists, realistically if you look at Al being 4-1 (assist to turnover) today and Rob 3-0, and I believe Galloway was 5-0, those guys can do some really good things to help Armaan get going, and he was the beneficiary of some of those."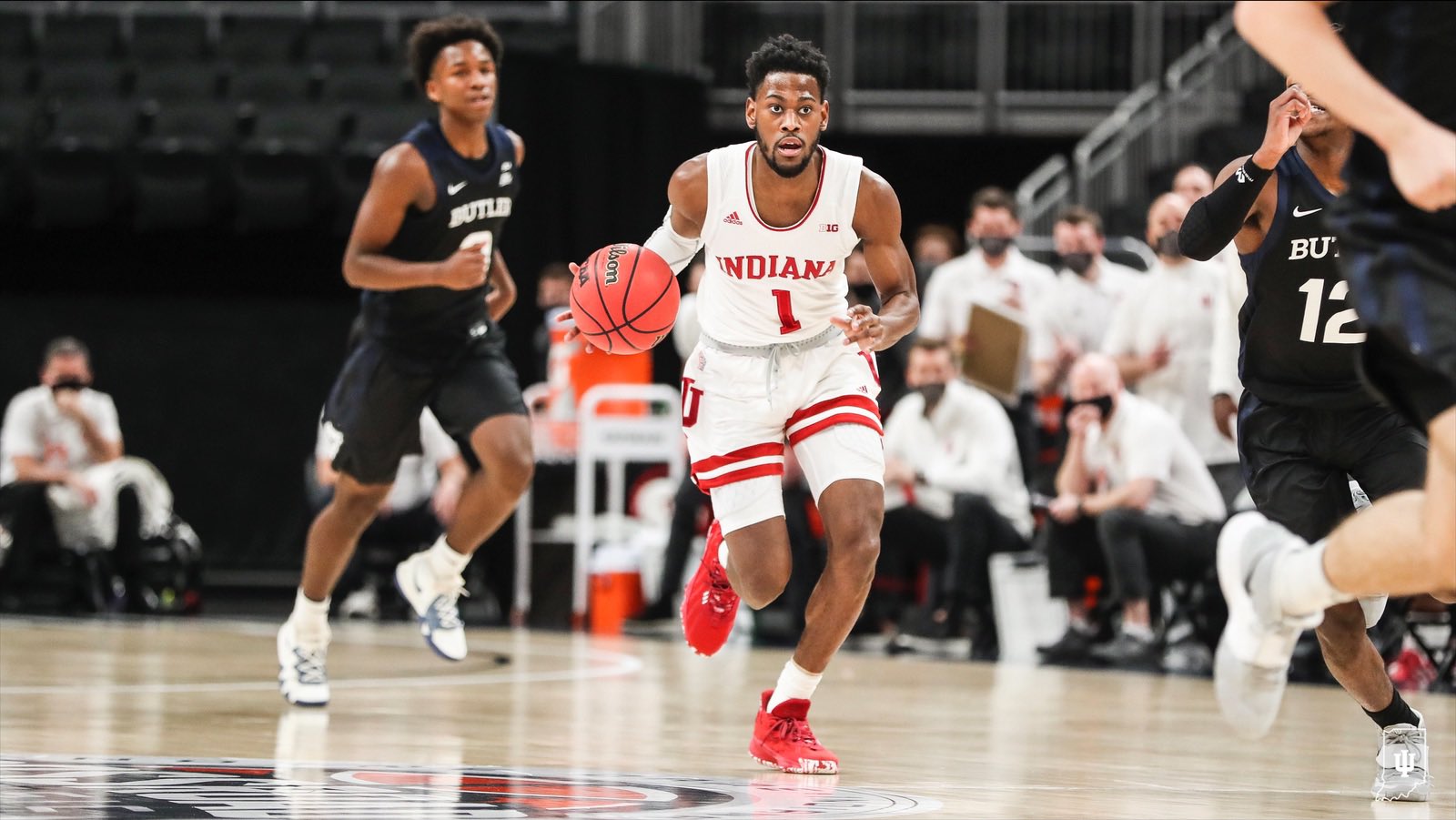 After the break the Hoosiers started to get transition points off of turnovers, blocked shots and a whole lot of missed shots.
In the halfcourt IU found ways to free up space for Trayce Jackson-Davis, who ended up with 21 points.  The Hoosier star big man believes improved perimeter shooting from Franklin and others helped the cause.
"Really just being able to play inside out has really been key for us, especially I think our guards have built a lot of confidence at shooting the ball in the last two games," Jackson-Davis said.
IU was 7-of-16 from three-point range including 5-of-7 by Franklin.  He became the first IU player with back-to-back games of at least five three-pointers since James Blackmon, Jr. in 2017.
Miller knows that with defenses forced to respect shooters, Indiana becomes a different team on the offensive end.
"I think we're going to be a better consistently shooting team as we continue to embrace sharing the ball, and I think you saw some guys make some really great passes in transition, and I think we had some great drives today where we were unselfish and had the ability to deliver a pass on time where we got rhythm shots," he said.
Jackson-Davis and Franklin combined for 10 of IU's 15 turnovers, a number that is too high going into Big Ten play.
DEFENSE (A-)
The discrepancy in the defensive numbers between the two halves was stark.  Butler shot 53.8 percent in the first half, 26.7 in the second.
What was the difference?
"They kind of maneuvered and manhandled us inside," Miller said of the first half struggles.  "They really did. They controlled the game. They were able to perimeter post us from the perimeter, they were able to post one-on-one, and really they just had a lot of success playing one-on-one in the post. They took advantage of our lack of help and they took advantage of our lack of physicality."
Butler also held a 17-11 halftime rebounding advantage, a gap that IU closed by the end of the game.
"They were able to do what they wanted, move where they wanted," Miller added.  "They rebounded the ball physically. We couldn't post the ball. We couldn't get it inside. At the end of the day that's why the game felt funny for us."
Miller talked about what was different during the second stanza.
"I thought we changed that in the second half," he said.  "We were able to do a much better job of being tougher inside, and we also did a much better job of giving correct help when we needed to.
"The bottom line is they didn't shoot any uncontested lay-ups in the second half. First half they shot a lot of uncontested lay-ups. Made a lot of hard plays. Guys were coming up with loose balls, and I thought very early in the first four minutes of the second half we got our confidence going because we were able to get some stops."
Butler had just 5 assists in the second half while committing 8 turnovers.  7 of Indiana's 8 blocks came after the break, along with 5 of their 6 steals.
---
OTHER GAME COVERAGE
---
PLAYER OF THE GAME 
This game was won in the second half, and the highest impact player on the floor during that stretch was Race Thompson.
The redshirt junior was nowhere to be found in the first half, with no points, two turnovers and just two rebounds.
Thompson gave IU 10 points, 5 rebounds, 2 assists and a block in 17 gritty minutes after the break.
Perhaps spurred on by some halftime fireworks, Thompson got the message after the break.
And his teammates noticed.
"I thought Race really came in in the second half," Jackson-Davis said.  "He was amped up and ready to go, and Coach Miller told us at halftime that they weren't here to mess around."
Much of what Thompson did wasn't quantifiable on the stat sheet.  He challenged shots, he sealed off driving lanes, he got on the floor for loose balls, and he got out in transition.
The bottom line?
Thompson one-upped Butler's first half intensity.
"I thought in general Race Thompson answered the bell in the second half and gave us another presence inside and around the basket along with Trayce," Miller said.  "It was really important that Race Thompson really gave us an unbelievable boost in the second half."
Player of the game tracker:  Jackson-Davis (3), Thompson (2), Durham (1), Franklin (1).
Note:  Redshirt senior center Joey Brunk did not play due to a back issue.  The injury at this point appears to be a longer term situation.
---
You can follow us on Twitter:  @daily_hoosier
Find us on Facebook:  thedailyhoosier
The Daily Hoosier –"Where Indiana fans assemble when they're not at Assembly"
Seven ways to support completely free IU coverage at no additional cost to you.