The Big Ten has confirmed what was originally reported by Jon Rothstein.  Indiana will travel to Durham, North Carolina to play Duke at Cameron Indoor Stadium in connection with the 2018 Big Ten/ACC Challenge.  The game will be played on November 27.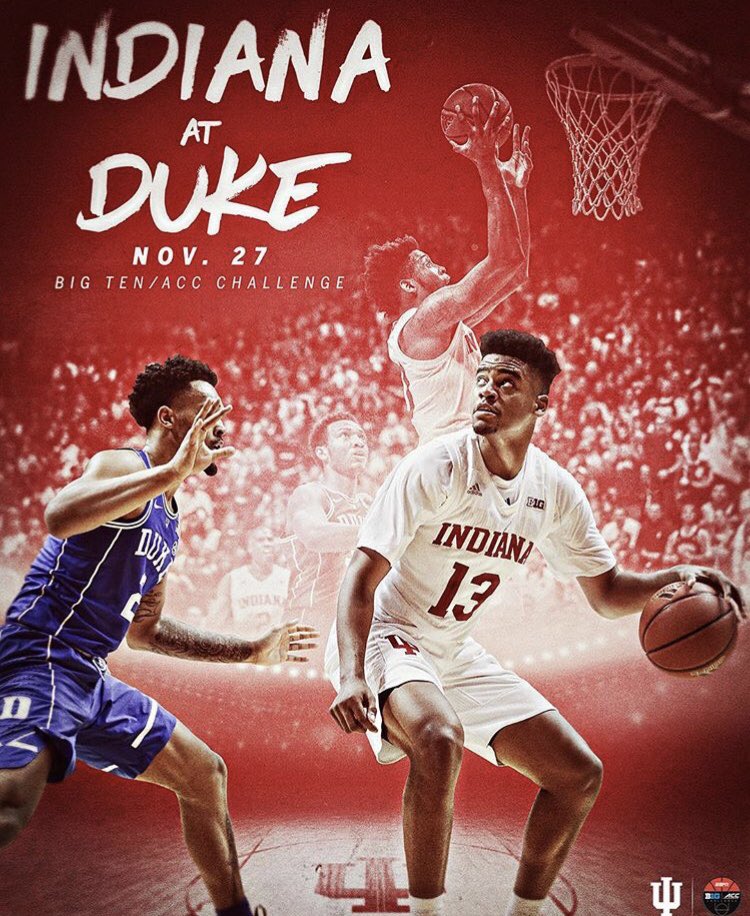 The programs also met in the 2017 Big Ten/ACC Challenge in Bloomington on November 29.  Duke won that meeting 91-81 in a game that was tightly contested until the last couple minutes.
The game could be a top 25 match-up, and will feature two of the top 10 recruiting classes of 2018.
Duke leads the all-time series 6-3 and it has won the last four meetings.  Indiana has never won on Duke's home floor.  In their only trips to Durham, IU lost in both the 2006 and 2015 Big Ten/ACC Challenges.
Indiana's last win in the series was a memorable 2002 victory in the NCAA tournament.  The other IU wins were in the 1987 NCAA tournament and the 1996 Preseason NIT.  In the latter contest, Andrae Patterson scored a career high 39 points.
You can view what is known thus far of the 2018-19 schedule here.  We expect the full schedule to be released in the coming weeks.
The full Big Ten/ACC Challenge schedule as released by the Big Ten is as follows:
2018 ACC/Big Ten Challenge Schedule

Monday, Nov. 26
Minnesota at Boston College
Nebraska at Clemson

Tuesday, Nov. 27
Illinois at Notre Dame
Indiana at Duke
Michigan State at Louisville
Pitt at Iowa
Virginia Tech at Penn State
NC State at Wisconsin

Wednesday, Nov. 28
Purdue at Florida State
Rutgers at Miami
North Carolina at Michigan
Virginia at Maryland
Georgia Tech at Northwestern
Syracuse at Ohio State
You can follow us on Twitter:  @daily_hoosier
Find us on Facebook:  thedailyhoosier
Supporting FREE coverage of IU Athletics operated by an Indiana based small business has never been easier.  Just do your shopping via this link to the Amazon home page or via the Amazon ad below.  Anything you purchase via these links (not just what is pictured in the ad) supports locally-owned and free coverage of all things IU.