Another spring is in the books for the Indiana football program.  The Cream defeated the Crimson 48-33 at the annual spring game on Friday night at Memorial Stadium in Bloomington.  Here are our three takeaways, spring awards announced by the program, and several in-game videos.
1. Peyton Ramsey was looking down field. It is way too early to make bold proclamations about the Kalen DeBoer era, but the spring game did seem to highlight an emphasis on pushing the ball down field.  That would be a welcome change, as a common frustration with the Mike DeBord reign as offensive coordinator revolved around too much short passing.
Never was that more apparent than on this Peyton Ramsey 39 yard touchdown pass to Ty Fryfogle.
🤑@Ty_Fry3 TD. pic.twitter.com/mk3QdpppP1

— Indiana Football (@IndianaFootball) April 12, 2019
Ramsey was the only quarterback to play in full 11-on-11 action.  Various reports had him with nearly 300 yards on the night.
Michael Penix participated in 7-on-7 drills and his armed looked as strong as ever.  Transfer Jack Tuttle did not participate due to an illness.
2. An active defensive makes splash plays.  Indiana's young defense kept the Hoosiers in games last year with takeaways, and with a year under their belts they appear ready to build off of that production.  Indiana's defensive units had three takeaways on the day.  Head coach Tom Allen was pleased with the defensive activity, while acknowledging that his own offense was on the other end of those turnovers —
"There was three takeaways by the defense which was very big," Allen said.  "That's our goal for the game. Then obviously the other side of the ball gave it up, which isn't good. So gotta protect the football. Did a really good job the entire spring on offense.

But our defense is a takeaway-driven team. That's what we emphasized and we attacked that football and that's what our guys did tonight. So just gotta secure the ball on offense and keep taking the ball away on defense. And so some guys made some individual plays."
3.  Hale and Fryfogle shine.  Indiana should have a talented group of big physical wide receivers this year.  Two that were prominent on Friday night were Donavan Hale and Ty Fryfogle.  While official stats were not kept for the game, both players had several catches on the night and provided big targets for Ramsey.
Hale looked as good physically as he has throughout his entire time at IU, and Allen agreed —
"He's leaner. He's strong. He looks really, really good. And he's able to — he got his body right," Allen said.
4. Indiana acknowledges the top spring performers.  Tom Allen announced several awards at halftime.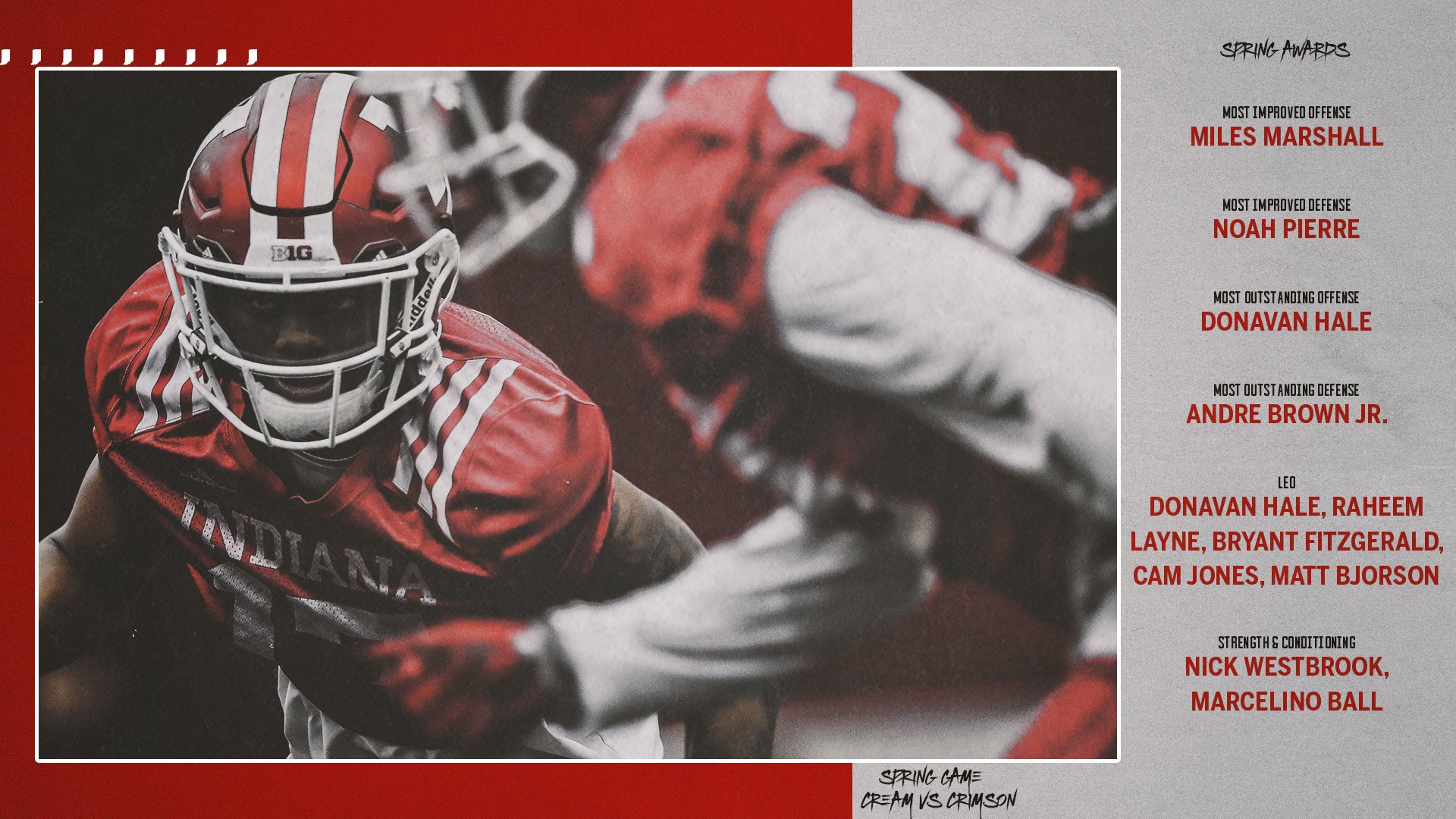 Note:  In addition to the Fryfogle touchdown, Ahrod Lloyd and Kristian Pechac both had two yard touchdown runs.  The rest of the scoring came from a field goal competition and a defensive scoring system created specifically for this game.
---
See also:
---
IN-GAME VIDEOS
New offensive coordinator Kalen DeBoer:
There's a new 🔑-holder to the @IndianaFootball offense this season.

Meet incoming OC @KalenDeBoer: pic.twitter.com/vkvAVFigDj

— Indiana On BTN (@IndianaOnBTN) April 13, 2019
Tom Allen mic'd up:
🗣 HAVE FUN TONIGHT. LET 'ER RIP! TIME TO GO TO WORK. pic.twitter.com/0mk5CpdJJh

— Indiana Football (@IndianaFootball) April 13, 2019
Sophomore running back Stevie Scott:
"I just want everybody to watch out, because we're coming."

– @StevieScott8_ of @IndianaFootball putting folks on notice in the spring game. 👀 pic.twitter.com/yCwNDMHTab

— Indiana On BTN (@IndianaOnBTN) April 12, 2019
Nick Westbrook:
Nick Westbrook is healthy and ready to take the field in 2019, but the @IndianaFootball WR is contributing in the community, as well: pic.twitter.com/PpQal6r6te

— Indiana On BTN (@IndianaOnBTN) April 13, 2019
🏈 is back! (Sort of)

Get full highlights from @IndianaFootball's Friday Night Lights here: pic.twitter.com/SUl8rmGjoC

— Indiana On BTN (@IndianaOnBTN) April 13, 2019
---
You can follow us on Twitter:  @daily_hoosier
The Daily Hoosier –"Where Indiana fans assemble when they're not at Assembly"
Want to receive all of our content via one e-mail in your inbox every day?  It's free.  Join our daily mailing list here.
Please consider supporting The Daily Hoosier by shopping on Amazon via this link to the Amazon home page or through the ad below.