With Halloween upon us and the 2018-19 edition of Indiana basketball now just days away, we decided to venture over to the lighter side.
For each IU player expected to contribute this season we name one Halloween treat (i.e. – our take on what could be the best case scenario for that player), and then one perhaps no so realistic (but fun) headline or story from the season — or a "trick" if you prefer.
Damezi Anderson — Emerges as a three point specialist on this team that still needs perimeter shooters.  Shoots near 50% from distance on the season.  When asked if he is surprised that he is knocking down shots at such a high rate, he winks and deadpans, "No, with teammates like Ro and J-Mo opening things up, hitting those shots is damn easy."
De'Ron Davis — Becomes a force in the paint by January.  Specializes in stepping up against teams with more traditional centers.  With renewed athleticism, stays in front of Ethan Happ and forces him to become the first Wisconsin player to foul out of a game since 1984.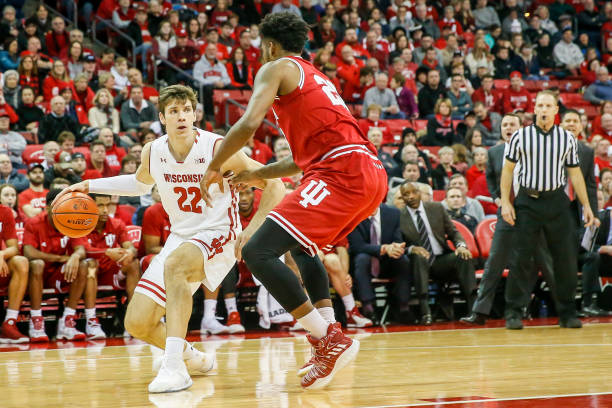 Aljami Durham — Becomes an absolute force on defense, hovering near the top of the country in steals per possession.  Starts multiple games and trades jersey numbers with Justin Smith to remind everyone that he was a three-star recruit.
Evan Fitzner — Becomes the three-point assassin that everyone envisions, and holds his own in the post both on offense and defense.  Edges out Purdue's Matt Haarms for total in-game hair adjustments and earns a Head & Shoulders endorsement after the season.
Jake Forrester — Becomes a regular in the rotation and is consistently mentioned as one of the top surprising newcomers in the Big Ten.  Causes Archie Miller to declare eastern Pennsylvania as a satellite affiliate of the Indiana "inside out" recruiting initiative, to which Bruiser Flint nods and smiles in agreement.
Devonte Green — Hovers near the top of the Big Ten in assists and assist to turnover ratio.  To the shock of his coach, Green does it with an seemingly never ending array of no-look, behind the back and shoe-in-hand passes that causes him to give up his final year of eligibility and join the Harlem Globetrotters.
Jerome Hunter — 3rd team All-Big Ten.  Leads the team in scoring on a couple occasions and becomes a key factor in the team's success.  After scoring 28 against Ohio State and seemingly playing like a man possessed, announces after the game that he has denounced his Ohio residence "effective immediately," and that he and his family are moving permanently to Bloomington.
Romeo Langford — First team All-American.  Becomes so obsessed with the gold jersey that he wears it to a game and draws a technical foul for not matching the team's uniform.  At the end of the season, tells Miles Bridges "Hold my beer," and announces that he will be staying at IU for all four seasons.
Zach McRoberts — Big Ten defensive player of the year.  After a bout of the flu wreaks havoc on the IU program, fills in for Don Fischer, Chuck Crabb, and the Mop Lady at various points throughout the season.
Clifton Moore — Leads the Big Ten in blocks per possession.  At one point, after blocking Carsen Edwards' shot for the third time in a game, can be overheard telling Edwards "Get that outta here Bambi."
Juwan Morgan — First team All-American and Big Ten player of the year.  Begins demanding in the middle of games who must guard him, and at least in one case, an opposing coach complies.
Rob Phinisee — Earns big minutes as a freshman and has several games where his production stands out.  One such game is the return to his hometown of Lafayette, where he drops 30 on Purdue, and in homage to Will Sheehey, flexes after every made basket.
Justin Smith — 2nd team All Big Ten.  Achieves a college basketball first, with a game-winning walk-off dunk at the buzzer that shatters the backboard.  The game is at Purdue of course, and Mackey Arena falls into stunned silence.  Bill Raftery just happens to be calling the game, and his "Send it in Justin" call literally echoes throughout the arena.
Race Thompson — Becomes a consistent shooter from long range and a rotation regular.  Has his best game of the year back in his home state of Minnesota and says after the game that he didn't choose the Gophers after watching Josh Newkirk fall off the raised floor two years ago.
---
You can follow us on Twitter:  @daily_hoosier
Want to receive all of our content via one e-mail in your inbox every day?  It's free.  Join our daily mailing list 
here
.