The Hoosiers entered the 1967 Rose Bowl season in a situation similar to 2018 — with a down-to-the-wire quarterback competition.  Sophomores Harry Gonso and John Isenbarger battled it out until the final week.  Of course Gonso won that battle, and things worked out okay for IU that season.
Isenbarger's consolation prize?  A new position.  The multi-talented athlete would be IU's new tailback.  That worked out okay too.
In a program with a more than 125 season history, you have to have been a true outlier to make this list.  Isenbarger has multiple claims to fame in this regard.  Most notably, as one of only four IU football players to earn first team All-America recognition on two different occasions, John Isenbarger was undeniably an IU football outlier.
Isenbarger was also a star on a true outlier of an IU football team.  The 1966 Hoosiers were a one win team.  Isenbarger and the 1967 Indiana squad were co-Big Ten champions and played in that Rose Bowl game against O.J. Simpson and the USC Trojans.
For his career the Muncie, Indiana native averaged an impressive 5.0 yards per carry.  Isenbarger is currently ninth on IU's all-time rushing yards list despite not playing his freshman year.
In 1969, Isenbarger had a career-best 184 yard performance against Minnesota.  He ended his career with a bang, with a 165 yard outburst against Purdue.  He finished his senior season with 1,217 yards, the 11th best total in program history.  Isenbarger also had a career total of thirteen 100-plus yard games.
At the time he graduated, Isenbarger was IU's all-time leading rusher and he held the single-season rushing mark as well.
Isenbarger was also the starting punter for the Hoosiers, and he was quite good at it — when he decided to kick the ball.  One other reason Isenbarger makes this list is because he is the name behind one of the most iconic slogans associated with the IU football program.  His judgment (or lack thereof) in deciding whether to punt the football is the story behind the "Punt John Punt!" expression that you've likely heard before.  You can read that story here.  There is also a website that covers IU football named after this historic time.
Isenbarger was Indiana's Most Valuable Player in 1969 and first team All-Big Ten that same year.
He was drafted in the 2nd round of the 1970 NFL Draft and played professionally for San Francisco.  He played four seasons with the 49ers and caught two touchdown passes.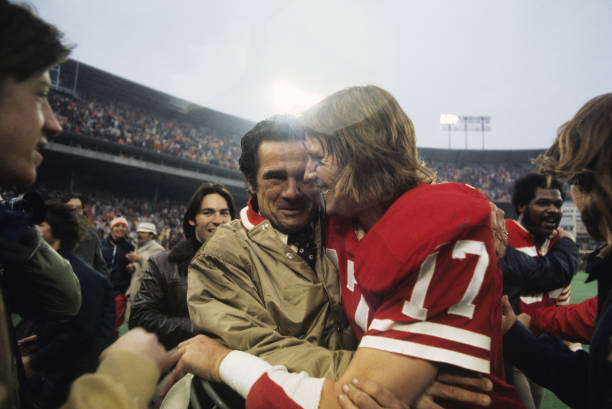 John Isenbarger was inducted into the IU Athletics Hall of Fame in 1991.
---
You can follow us on Twitter:  @daily_hoosier
Find us on Facebook:  thedailyhoosier
Supporting FREE coverage of IU Athletics operated by an Indiana based small business has never been easier.  Just do your shopping via this link to the Amazon home page or via the Amazon ad below.  Anything you purchase via these links (not just what is pictured in the ad) supports locally-owned and free coverage of all things IU.